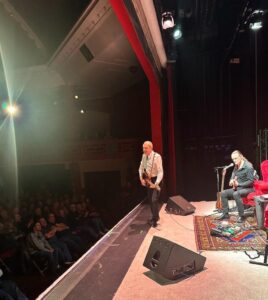 My only experience of seeing Francis Rossi was with Quo but I went to see The Alarm support themin a football stadium and it was many many moons ago. I find myself traveling up the south Wales coast to the seaside town of Porthcawl to catch Francis Rossi doing a stand-up slash songs and chat performance and I was looking forward to finding out what it was all about. Not being familiar with the format and resisting the temptation to go online and watch some spoilers I took my seat amongst the Quo diehards who are out in force.
Over a hundred shows in and Francis and Guitarist Andy Brook are perched on a pair of oversized red armchairs with little else on the stage other than their instruments and a desk with a lamp the announcer introduced the evening was about to begin and people should refrain from taking pictures and videos. Francis walks onto the large stage in front of a packed house at Porthcawl Grand Pavillion to rapturous applause before a note is played or a word spoken.
Going into this most interesting of evenings was a first for me and outside of the big hits and Quos standing in the pantheon of rock n roll history I sat up with an open mind to what was about to unfold.
Now, it's fair to say Rossi is a confident guy, sure he has charisma and a big stage presence but this is a different enviroment for a rock and rolla whos used to hiding behind a guitar and the volume as well as having bandmates to spar and act as a foil but this is stripped bare with none of the trappings of being part of the band. It's not an arena or football stadium and he doesn't have the amps and a band behind him, this was something different and way out of any rockers wheel house. Rossi began at the beginning regaling tales of growing up in South London in a Catholic Italian family but it wasn't long before music and its infancy in the young Francis and his brother took hold. Growing up listening to folk songs and soon the boy's interest peaked and the similarities between Irish folk Italian folk and rock n roll.
Rossi has a very charming and engaging disposition and his tales flow like a fine wine after the opening twenty minutes he sits down picks up a guitar and the tunes join the banter. Immediately I'm struck by how strong his voice is and how engaging he is with his guitar in hand. He and Andy worked seamlessly as the harmonies worked well as some early songs were dispatched from 'Matchstick Men' and on. Throughout the evening tales were told, how some of the lesser quo hits were written, and the stories behind them. One thing that stood out was just how humble Rossi was/is, sure he's sharp and rehearsed but how in love with the music he is. He's fast moving from story to story and his sense of humour is going down well with the punters who were clearly die-hard Quo fans who must have been in their oils to be so close and intimate with their hero as he made them laugh as well as reminisce about some of the songs that put him on the biggest of stages and part of Rock royalty.
Being a member of a band who held the most appearances ever on TOTP, it's often overlooked how important a band Quo was/is in UK rock music and just how many albums and singles they released.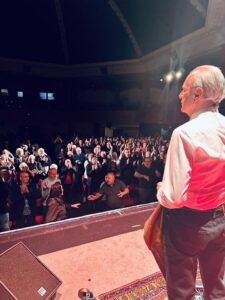 Conscious of overrunning and being sidetracked Rossi had some great one-liners for the few giddy ladies who'd had one lager top too many and heckled him whilst fangirling him much to the amusement of everyone else. He seemed to understand the format really well and was also being respectful for where he was and why we were there. After an hour of early songs like 'Matchstick Men' and an excellent blues duet of 'In My Chair' and 'Spinning Wheel Blues' the sound was fantastic and you could have heard a pin drop before the brief interval before Rossi and Brook returned to the stage to complete the second half.
The format worked well and the audience was hanging off his every word with nobody shouting out or constantly videoing or taking pictures as Rossi moved through his career playing his personal favorites as well as staple Quo classics sure you have to hang on for a wonderful rendition of songs like 'Caroline' and of course 'Rockin all over the world' were knocked out after Rossi took some pre-written questions from Andy Brook where Rossi gave a heartfelt reason as to why he still does this and tours in a bus for over 100 shows, he also genuinely spoke fondly of why he plays the likes of Porthcawl and Milford Haven. He could easily sit on his laurels and enjoy his retirement but he does it for the love of music and respect and love for the fans who have given him over fifty years in music.
His words came across as genuine and honest and to be fair it capped off a really enjoyable evening in front of a genuine British Rock Star who deserves the title national treasure but for all the right reasons. He's been around for over 50 years sold over a hundred million records, made over 100 TOTP appearances, and owned live Aid along with U2.
He can now add accomplished comedian and acoustic troubadour to his list of achievements and if you get the chance to see him do this Tunes & Chats you absolutely should, fan or not it was a wonderful almost 3 hours of entertainment.
Author: Dom Daley
(Pictures from Porthcawl taken from the Francis Rossi Facebook page because when he asked for no video or phone footage I had to show him the respect he certainly earned.)