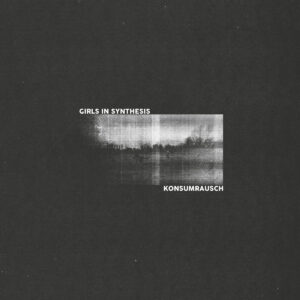 London post punk noise bringers Girls In Synthesis turn up the tempo on this EP? Mini Album? Extended single? Who knows what to quantify it as but once the needle drops and the hum of overdrive and distortion grinds through your speakers added to the metronomic beat 'Pulling Teeth' will certainly test your fillings from the constant steady beat that creates a solid platform for the synth and guitar drones to test the limits of your speakers its hypnotic qualities draw you in like a modern-day homage to Joy Division via some Gallon Drunk meets Germanic industrial – its a melting pot alright and pretty captivating it is too throughout its nine minutes lifespan. I can't believe they haven't fallen through a portal in time and left post-WWII Berlin and landed in wet south London on a freezing cold and damp November.
At about six minutes your head feels like it's about to explode with the metallic feedback reaching a crushing climax before the bass thumps through the ether. Modern anarco punk is calling and its pulling teeth mantra is perfect as it escalates to its explosive conclusion. Intense and mesmerizing.
'Enveloped' is like a post-Bauhaus industrial banger – easy listening this isn't. 'Bypassing' is a widescreen landscape of twitching noise and brass blasts as the waves of noise washes over you. From the nine-minute opener to the sub-one-minute 'Interlude' seems obvious before 'The Engine' crashes in to wrap up this record. With four minutes of dark bleak guitar clashing with a great tune to wrap proceedings up before lying in a darkened room to get over the end-of-the-world noise, I've just experienced. It's great to test your head with some extreme noise terror and Girls In Synthesis do it as well as anyone I've heard recently. It's like pushing a johnsons cotton bud through one ear and out the other without dying it's not for everyone but those that get it will achieve immense enjoyment from their listening experience.
Digital downloads are available or direct from Hound Gawd! if you prefer the best experience on wax.
Buy Here
Author: Dom Daley