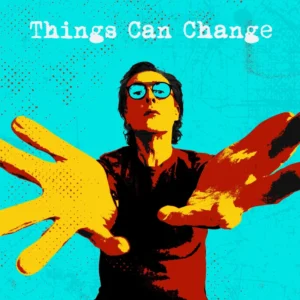 Milo announced that this was probably his last studio record and my heart sank, But what if it's a belter that needs a follow-up and Milo hits a rich vein of form and…and of course he'd record another alum won't he? I then have a word with myself and relax I've not even dropped the fuckin needle on this one – I might not want him to make another record and then the lush laid back tone of 'I Used To Want It All' rushes in and that familiar vocal kicks in and all is well again from the mid-tempo melody to the wonderful saxophone courtesy of Glen Johnson, this sounds excellent and after several plays, it just gets better and better with the layers of Organ and guitars its classic Hunt and I love that.
'And She Gives' is like a mid-period Stuffies track all big sweeping acoustic chords and the usual engaging great vocals – Hunt is giving it his all. It's like the sands of time have stood still and his vocals sound warm and engaging. In the sleeve notes, Hunt explains his own lockdown and how he survived relatively unscathed due to being at ease with his own company it features Laura Kid on vocals and the song works really well like a dusky summers eve with a great song being played elsewhere and you strain to listen and you like it but try to remember who it's by.
I like that Hunt can write for The Stuffies and his solo work and although he obviously can't change his voice the two sound quite different yet share the same DNA it might not be something I can explain well but those who like it know. The recordings were made from LA to Shropshire via London and various other locations and home studio setups Hunt handles the production and pulling that all together in a modern way must have been exhausting and daunting at the same time none more noticeable on 'Lucid Is As Lucid Does' featuring Billy Duffy Its certainly not how records used to be made but its the best of both worlds old and new and if you can phone in songs as good as this then lets roll into the future. Duffy doesn't go Gonzo Rock but plays with sympathy to the song and even though his solo is pure Duffy it works really well. (What about a new Vent album guys?)
Side two kicks off with possibly my favourite track on the record with Mark Gemini Thwaite and Pete Howard lending their big talents as does Kidd again chip in with some vocals but the saxophone reminds me of Jamie Heath who played saxophone with Johnny Thunders and passed away some years ago but the feel of the playing is so similar and exceptional and it really adds to an already fantastic song.
'We Can All Do Better' has a filthy deep rolling bass line that thumps your acoustic wooden flooring and the relaxed groove makes for a great song. It's got a real thump to the rhythm and Hunt explains that for the first time in decades three Vent 414 pleople were on the same song – now this bodes well doesn't it Milo? Milo? The record just seems to get better and better play on play and Milo's walking song 'This Descent (Someone To Save Me)' works well (for walking milo is bang on with his sleeve notes – good tempo). Stripped down to a four-piece Milo can indeed sing the blues on 'Team Valentinos' with a trippy San Fran kinda vibe on the organ solo. The record is lean and has not an ounce of fat on it. The songs are wonderfully arranged and this record is a real boon on the back of the recent Stuffies tour that was awesome as ever and to wrap up this ten-track diamond is something of a Vent 414 that I illuded to further up as 'Que Viva La Soledad' is a wonderful song to finish this record off. With a slower dreamy tempo with some exceedingly heavy guitar accents throughout and a hypnotic bass line, it's a superb way to sign off the album but please maestro play on, the world needs more Miles Hunt records and on this form, there has to be more. I guess things can indeed change and I hope they will. What a beautiful record this is. My advice is obviously go buy this album…Now!
Buy Here
Author: Dom Daley