On 2nd July 2022 JD & The FDCs debut LP 'Recognise' turns 10 years old. To celebrate They've decided to dust off the armbands and take to the stage one more time. OG line up! After all, real FDCs don't die.

Ten years to the day since the original release they'll be playing a very special one-off reunion show at The Rescue Rooms in Nottingham with support from good friends and the Shit Island's very own The Hip Priests.
Presented by IKE Productions, tickets are on sale now: Here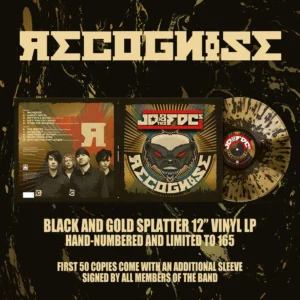 For the first time ever on vinyl, 10 years after its original release, here is Recognise X!
Black and gold splatter 12″ vinyl, hand-numbered and limited to only 165 copies, so do NOT snooze on this one!
Featuring brand new artwork and a gold/black theme, a full colour insert and the first 50 orders come with an additional sleeve, signed by all members of the band!
Please note, this is NOT a pre-order: These records are here and they will ship immediately, with FREE UK SHIPPING!
Recorded by Jason Sanderson (Rolo Tomassi/Ginger Wildheart) and mastered by Howie Weinberg. (Nirvana/Public Enemy/Beastie Boys/The Clash/Ramones)
Side 1
1. Recognise
2. Ujpest Dozsa
3. Mirrors & Wires (featuring Rob Lane)
4. Burn This City Down
5. From The Shadows (featuring Dez Cadena and Amy Dumas)
Side 2
6. The Secret (featuring Acey Slade and Andee Blacksugar)
7. No Way Out (featuring Richard Bacchus)
8. This Town Of Infamy (featuring Johnny Bonnel)
9. Never Gonna Stop
10. Anti-Destination League (featuring Jesse Luscious)