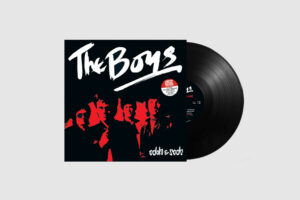 Oh, not another one said some old lady about an election. I'm sure she'd say the same if she knew there was another Boys 'Odds And Sods', but wait, this one comes on red vinyl and has two new tracks and a wonderful booklet.
Found under Matt Dangerfield's bed!, Matts's bed must be huge if he keeps finding tapes under it of never before heard material and if it's half as good as this then keep em coming I say. This album features an eight-page booklet with rare photos, a full lyric sheet, updated sleevenotes from Matt Dangerfield and two previously unreleased Boys demos. 'You Better Move On' The Boy's first demo recording of their 1980 single, and 'Love Song' – Recorded by The Boys in November 1978. Written by Casino Steel & Matt Dangerfield in an attempt to make the Eurovision Song Contest.
Also to wrap up this must-have record there is also an additional 1978 Capital Radio Ad (not used on the original release) for "Alternative Chartbusters". Recorded by Matt Dangerfield, Honest John Plain & Jack Black. Apart from the count-ins and demo nature of the recording you do wonder how some of these never made it onto a record sooner or how the hell they were left on the cutting room floor so to speak. the Synth stabs on 'Mummy' are proper new wave just as the new wave was becoming a thing. Interestingly it's a John Plain composition whilst the lyrics make sense the synth stabs I'd have had them as a casino idea or even a Matt song but there you go.
I do love 'We're All Crazy' from the buzz saw riff to the gang vocals on the chorus it's pure Boys and if you know you know from the once round the kit that was unmistakably Jack I love it. 'Pick Me Up' is pure Python from the intro to the Kinks-like tempo and cheeky swagger. 'Jimmy Brown' is a belter always was and always will be this version is sleazy and cool and hands down beats Michael Monroe's version but he knows a belter when he hears it which is why he covered this.
When you look at who wrote what on here Matt was making hay and in a rich vein of form, there's a Beatles quality to 'Flash' and 'Dressed To Kill' is a great number from Duncan's bass line through the Rock n Roll riff on the verse it's certainly one of the best kinda songs that Andy McCoy must have etched into his DNA when he was looking for inspiration for Hanoi Rocks.
If you didn't pick it up when 'Odds & Sods' first became available then this is a must-have. The songs are quality (obviously) and it's a great addition to any Boys collection and with the extra tracks and booklet I can't believe you're still reading those cheeky radio fills are a blast from the past and a copy should be in a time capsule for how bloody good some bands were. Hit that link and fill yer boots before they're all gone.
Buy Here
Author: Dom Daley