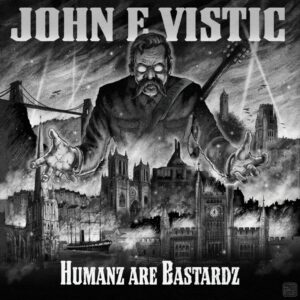 Multi-instrumentalist & award-winning London born (Raised in Australia) songwriter John E Vistic plays a unique brand of punk, rock n roll & alt country, described as 'filthy' by Damien Sayell of Mclusky and St.Pierre Snake Invasion. Musical influences include The Jesus & Mary Chain, Marky Ramone, Jesus Lizard, Cramps, Stooges, Bauhaus, The Birthday Party, Sisters of Mercy, PIL, The Cosmic Psychos, as well as contemporary acts Idles, Metz & Fontaines DC.
Thats quite the resume from mr Vistic and when the needle drops on the opening track you're entering a world of DIY punk with thoughtful lyrics and a one-man army of sonic goodness. 'Crime & Punishment' is a very punchy intro to this EP and very enjoyable with its mid paced fuzzed out rock n roll.
Don't get to comfortable because the troublesome bruiser 'Gunz Germz and Steal' is out of the traps like a hybrid of PIL and Killing Joke at their brutal best. Its got a air of menace not a million miles from earl yJAnes Addiction when they meant something.
It might only be an EP this time from Vistic but its four extremely enjoyable pieces of music – quite diverse in delivery and tone but a really nice flow to some excellent songwriting as the dark brooding 'To Every Purpose Under Heaven' before signing off with th etitle track and thumping modern post punk as it prowls around your speakers with a thuggish bassline and spoke lyrics through the verse as it twists down your ear into your brain rubbing your pleasure senses of your brain as you know you're gonna press repeat and dive in again. Humans are all bastard my friend but not all of us just most of the right in society us wokey lefties are generally ok. Chin up Vistic and keep on playing it makes everythign sound better. Check this out its only four songs but every one is a banger.
Buy Here
Author: Dom Daley