Here at RPM we pride ourselves on our diversity, like to think we cover a wide range of artists and we strive to step out of our comfort zone at every opportunity. So, taking a 2-hour car journey and seemingly stepping back in time a good 100 years or so, I head to The Toon for one of only five (mostly sold out) UK shows from Nashville's best kept secret Sierra Ferrell.
Born and bred in West Virginia, Sierra Ferrell grew up on a diet of punk and grunge. She started busking in her 20's and adopted a nomadic lifestyle, where she discovered a love for bluegrass and swing music, adopting her style to suit. She settled in Nashville and signed a 3 album deal with Rounder Records, releasing her debut album 'Long Time Coming' in 2021. Some say it's her solo performances, preceding the album release and uploaded to YouTube, where this girl truly shines.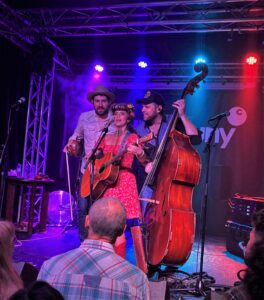 Sierra Ferrell has a voice that sounds like it should be on old, crackly vinyl, and in a live environment, as on record, she has the ability to transport the listener back to another time.
This is Sierra's first visit to the UK and many of these long postponed European dates are sold out, so it's no real surprise that there is an air of anticipation and excitement leading up to the performance. Its already hot in The Cluny as Sierra plucks the opening chords to 'In Dreams' and walks on to whoops and hollerin' from the packed-out crowd. Wearing a red, flowery dress, matching cowboy boots and her hair up in rollers, she certainly looks old school country, yet it's the septum ring, tattoos and ultimately the quality tunes that sets her apart from the usual Nashville country artists that come our way.
Flanked by Oliver Bates Craven on mandolin and fiddle, and upright bassist Geoff Saunders, the diminutive singer takes us back to another place, another time with her ageless, gypsy jazz and folky laments that incorporate as much calypso and Latin influences as they do country.
For an artist who has just one album, she seems to have a cult following in the UK. Looking around me the demographic is similar to an Alabama 3/Primal Scream sort of crowd, a mix of gig-hardened 50 somethings, alternative students and die-hard roots music lovers. A Glasto sort of crowd, a festival which funnily enough is happening as we stand here. How is she over here this weekend and not playing? She would be perfect at Glastonbury. Maybe next year.
A lot of people know all the words tonight and it's a very vocal and upbeat crowd. There's a lot of chat, a lot of foot-stomping and a whole lotta singing. Yet, a song like 'Whispering Waltz' stops everyone in their tracks and you could hear a pin drop while we are mesmerised by the near perfect rendition. Sierra transports the listener to the mountains of Virginia with mournful, rustic accompaniment and a stunning mandolin solo (not a phrase I ever thought I would say!).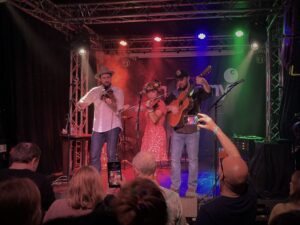 They pretty much play the whole album, past singles and a few covers. Highlights for me would be the gypsy jazz of 'The Sea', the countrified 'Bells Of Every Chapel' and the heartfelt balladry of 'West Virginia Waltz' that was simply outstanding.
There was also a new song which will be on her next album called 'Fox Hunt'. It featured Oliver and Sierra both on fiddle and had a foot-stomping, folk driven intensity that brought to mind The Levellers at their finest. This I liked a lot, instantly gratifying and judging by the whoopin' and hollerin' from the crowd, I was not the only one. A song that promises good things for album number two.
Between songs, Sierra sinks a large wine glass of something pink and makes use of the strategically placed fan to cool down. The main set closes with the finger-pickin' delights of 'Jeremiah', one of those YouTube wonders that has the crowd singing along.
No drums, no electric guitars, just simple, honest songs played by 3 players on stringed, acoustic instruments and a voice that is effortless in its perfection.
They sure missed a trick not having any vinyl on sale tonight, as you can't find the album for love or money over here, but the t shirts were cool, so that was a bonus.
As we always say at RPM, we strive to bring you the cool artists from the underground, the ones on the way up, the ones who bring something a bit different and edgy to the table. Sierra has something, from the first video I watched and the ensuing YouTube rabbit hole I went down. It was well worth a 2-hour trip and I will do it again when she returns. She will return, she expressed a wish to live here from the stage tonight. When she does come back, I highly recommend you check her out. In the meantime, has anyone got her record for sale please?
Author: Ben Hughes