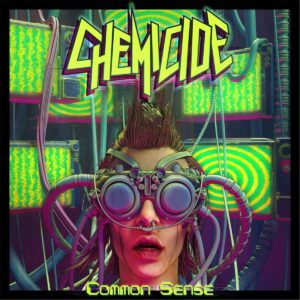 Costa Rica based thrashers Chemicide have been around since 2011 and have released three albums and an EP. Their latest release 'Common Sense' has the sound and feel of an old-school thrash album. Echoes of early Sepultura, Kreator, Death Angel, Exodus, Forbidden, Nuclear Assault, with a bit of Morbid Angel thrown in. Not bad eh?
If, like me, you're a fan of the bands I've mentioned above, then you could much worse than check out Chemicide. This really is like stepping back to 1989. All I need is my Cosmic drainpipe (black, of course) jeans, Hi-Tec basketball boots, and a baseball cap worn backward to complete the picture! Big riffs, fast parts, mosh parts, breakneck double bass drumming, shouty vocals and song titles like; 'Self Destruct', 'Barred Existence', and 'Strike as One' just add to the nostalgic charm of the album.
The production from Juan Pablo Calvo has that classic Scott Burns feel to it, very raw and punchy. It really is a thrasher's delight and it's very comforting to know that thrash metal is alive and well thanks to bands like Chemicide. Great job guys! Mosh it up!!
Buy Here
Author: Kenny Kendrick