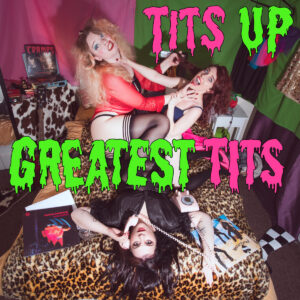 Kicking off the release with track 'get ya on' with the "if it's not broken don't fix it" punk rock formula. Ensuing pogoing is guaranteed! Things turn dramatically by the next number, 'baby'. Almost as if we have taken a shortcut down a dark alley in the wrong side of town. Creepy and haunting in all the right ways. This first recording is a great testament to the group.

What I love about this EP is that it seems to get more and more aggressive with each passing track without losing any of their style and mystique. The ladies seemingly have the ability to be intimidating without losing any character and credibility and leaving the listener wanting more. 

This five track release is nothing if not consistent, every track is a stomper and leaves you unable to isolate any track as a stand out. Repeat listening is a natural side effect and the material keeps it strength every time. There is a run of the mill tradition when reviewing powerful releases from those of the feminine persuasion, to play some sort of "riot grrl bingo". Name checking artists, whether they are actually all that similar to our subjects. I don't want to go down that route as it's over travelled already. All I will say is if you like Punk Rock and Alternative Rock from the past 40 years, check out this release because these three individuals rock the fuck out! 

I'm pleased to say that the first lot of physical copies of Greatest Tits has sold out already. A great achievement and the band has announced that they will try and get some more copies reissued soon. Keep an eye on their social media and their Bandcamp and also check out the live dates that are coming through for 2022. 
Buy Here
Author: Dan Kasm