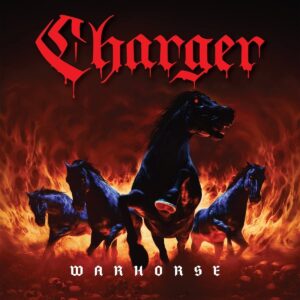 Having initially seen large numbers of Charger T shirts at punk shows here in the UK, before checking out their debut 7 track EP/mini album released back in 2019, and thinking it was pretty damn decent, I can honestly say that I never realised that Rancid's Matt Freeman, along with Jason Willer (from Jello Biafra and the Guantanamo School of Medicine), and Andrew McGee (from Wired All Wrong) were the people responsible for conjuring up the no-nonsense metal onslaught that the band specialise in.
I mean, I know Lars Frederiksen has dabbled with the odd AC/DC/Rose Tattoo riff over the years with The Old Firm Casuals, but Charger are full-on "rock out, with your cock out" (if you know, you know) heavy metal, specialising in the type of metal Hell's Headbangers would have (dismembered?) kittens over, so perhaps that's what initially threw me. Although knowing who is behind the unholy (yet rather splendid) racket Charger produce is neither here nor there at the end of the day, because if you like early '80s metal (think Motorhead, think Anvil, think early Tank and think Chariot) then you are going to absolutely love the band's 11 track full length debut album, 'Warhorse'.
"Fast and frantic" is the default setting for Charger, and for most of this record I'm in serious danger of having the worst case of headbanger's neck I've had since the Youth Club Discos of my early teens. Tracks like opener 'Devastator', 'Will To Survive' and 'Running Out Of Time' simply thunder along, middle finger in the air and taking no prisoners in the process. Elsewhere there's a whiff of early '80s Saxon in the riff that introduces 'Rolling Through the Night' and just a hint of Nashville Pussy at their dirtiest during 'Stand Fight or Die', all custom built to soundtrack your wildest of parties.
Its only when Charger switch direction slightly, venturing more into the dungeons and dragons world of metal, via album closer 'Sword Of Dio' and (with the aid of the air raid siren guest vocals of Jake Nunn from Hell Fire) on 'Summon The Demon' that I find myself drifting off. It's not that the tracks are bad you understand, it's just I'm not really a huge fan of that metal sub-genre, and I'd much rather have preferred to have heard a few more four to the floor barnstormers along the lines of 'Forsaken Soul' or the Motorhead chug-a-thon of 'Black Motor' instead.
Released on multiple formats on 18th March 2022 via Pirate's Press Records, 'Warhorse' is a fierce slice of metal and perhaps one of the most radical sounding Rancid associated side-projects to date. Now someone get Charger out on the road with Midnight and give us THE metal gig of 2022.       
Buy Here
Author: Johnny Hayward