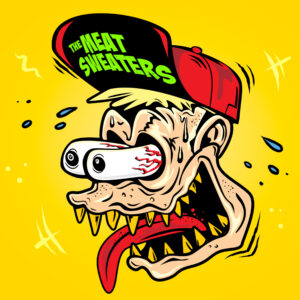 Somewhere between the B52s and Devo lurks The Meat Sweaters. (hailing from Brighton and London, via Stockholm, Sweden) release their debut EP 'Paranoid and Sweaty' on July 22nd and have a new track from it available today called 'Body Yoghurt'.
The Meat Sweaters are a trio (Wahoo Samuels, Pete Fraser and Jon Palmer) of friends who appreciate sounds that are very far removed from what most would consider conventional. Embarking on a thrillingly bizarre synth-punk journey with their debut four-track EP, 'Paranoid and Sweaty', released July 22nd via Hype Music (a sub label of Extreme Music), today sees the release of disturbing new single 'Body Yoghurt'. A manic, twitching, rampant, glorious mess of deranged experimental punk, 'Body Yoghurt' never takes its foot off the accelerator pedal.
But what's it all about?
"What does yoghurt taste like? How do you know the flavours? Which do you like? Which are best to apply to your body? Let us tell you about the best and worst ways to Body Yoghurt," states Wahoo Samuels.
None the wiser? Good. The Meat Sweaters aim to confuse.
lenceIn direct contrast we also have one from the new Then Comes Silence album 'Hunger' it's like night and day (see what I did there?) kings of the dark Goth are back with a new album 'Hunger'