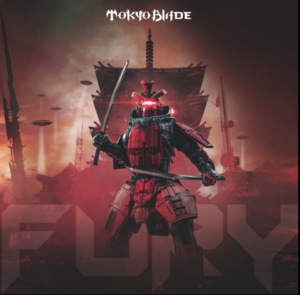 There were many bands that got tagged with the New Wave of British Heavy Metal label back in the early eighties. Some of those bands embraced it, Saxon, Iron Maiden, Angel Witch, Samson etc, and some hated being lumped in with it, Def Leppard being the most obvious example. Even bands like Budgie, Judas Priest and Motorhead who had been around long before the NWOBHM moniker was thought up by Sounds magazine, were getting pulled into the whole NWOBHM movement. Of course, Budgie and Priest were nothing to do with it, but it was easy to see why they got caught up in it. Budgie's Power Supply album was by far their most heavy metal sounding album and was released in 1980. Priest had released their breakthrough album British Steel in 1980 as well. It can be argued that Motorhead were indeed a NWOBHM band though because their seminal albums Overkill and Bomber were released in 1979 just as the NWOBHM got started, and their most successful period started in 1980 with the 'Ace of Spades' album. Anyway, I digress!
Tokyo Blade were forged in the fires of the NWOBHM and released their first self-titled album in 1983. By this time the wind in the sails of the NWOBHM had started to die down. The album is a full-blown classic in my eyes with songs like 'Powergame' and 'Break the Chains', it's just heavy metal personified. The band suffered with many line up changes but continued to release material until the late nineties.
The current line-up of Andy Boulton (Lead guitar), John Wiggins (Rhythm guitar), Alan Marsh (Vocals), Andy Wrighton (Bass) and Steve Piece (Drums) have been together since 2016 and recorded the albums 'Unbroken' (2018) and 'Dark Revolution' (2020). Their latest release 'Fury' was written and recorded in lockdown with Andy Boulton utilising his home studio to record the album.
The end result sounds great with a powerful mix. There is some fantastic traditional heavy metal on offer here with solid performances and some well-written songs. The opening track 'Man in a Box' highlights the vocal abilities of Alan Marsh and is polished with some guitar wizardry from Boulton. 'Blood Red Night' has an epic feel to it, 'I am Unbroken' is a full-on chugger with some tasty drumming from Piece holding the track together. The album flows well but my only real criticism is that is overly long with fifteen tracks.
The album has both a foot in the past and one very much in the present. A solid metal album that deserves to be listened to. There's plenty on offer here for old and new fans alike. The cover art is fantastic too, let's not forget that Tokyo Blade had utilised the Samurai on their artwork long before Iron Maiden's Senjutsu! The album is released via Cherry Red Records in Jan 22.
Buy Here
Author: Kenny Kendrick