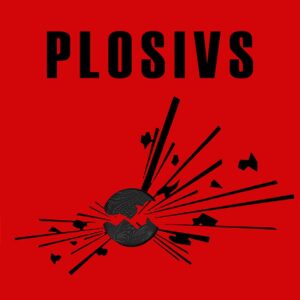 Seemingly not content with having already released one of the contenders for albums of the year in 2022 via his superb debut solo effort 'Ride The Wild Wind', the astoundingly talented John Reis is back to once again rock the RPM block, this time with the turbocharged 'Plosivs', the debut ten tracker from an all new supergroup, featuring singer/guitarist Rob Crow (Pinback), drummer Atom Willard (Against Me!, Rocket From the Crypt) and bassist Jordan Clark (Mrs. Magician) alongside Mr Reis on guitar.
Opener 'Hit The Breaks' sets the tone perfectly for what is about to follow over the next 30 odd minutes, and if you are a fan of Reis's other non-RFTC bands, like Night Marchers, Hot Snakes or The Sultans, then this baby really is going to right up your Strasse. The guitars of Reis and Crow scorch the earth whilst the rhythm section of Clark and Willard send sonic shockwaves through the galaxy, yet it's the soaring whilst still quite understated and very melodic vocals of Crow that actually first make me sit up and really take notice. There's a huge slab of early 90s alt rock influence within his vocal tone that honestly had me checking the sleeve notes to make sure Jon Auer hadn't been working under a pseudonym post the very public (and totally understandable) break-up of The Posies.
The boogie-tastic 'Rose Waterfall' is another joyous overload of melody, whilst the almost schizophrenic 'Thrown Clear' takes the listener on a rollercoaster ride of time changes and multiple vocal hooks that really shouldn't work…but boy does it.
'Never Likely' is where the aforementioned Posies refence point is perhaps at its closest as it recalls a very special time in my life when 'Frosting On The Beater' was indeed perhaps the greatest thing I'd ever heard.
The record's lead track (and video) 'Broken Eyes' marks the album's mid-point in a way that made me also recall a time when music that was called "Indie" really was just that, and most all, it was also exhilarating and fresh, whilst the other thing that strikes me about 'Plosivs' is that as it progresses it actually gets better and better.
I really don't want to spoil the delights that wait for you when discovering this record for yourselves, but if you like Cheap Trick played by The Pixies then check out 'Pines' or if you just want to hear what a more melodic Hot Snakes might sound like then album closer 'Bright' is where you need to direct your attentions.
Everything about 'Plosivs' just sounds right, its one of those albums that when you first play it, it all just clicks into place, and thanks to the stellar sonics of Ben Moore (who also worked on Reiss's ''Ride The Wild Wind') you also get a record that totally destroys everything in its path.
This really is essential stuff!
Buy Here
Author: Johnny Hayward