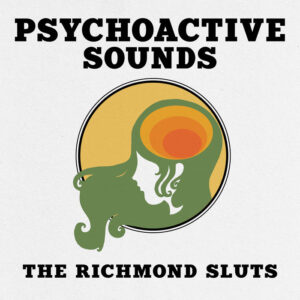 Alright, all you groovy cats out there on this spinning rock just waiting for some cool tunes to float by. Well, the wait is over because Frisco's coolest cats The Richmond Sluts have only gone and turned in a long-player jam-packed full of bangers with howling Organs, string bending trickery and gang vocals for you to bark at the moon along with.
Twelve tracks of wicked twists and turns and cosmic whig-outs right from the super cool off. 'Top Of The Night' will ease you gently before the overdriven six-string trickery clashes with that Organ wheeze to great effect. they might be on a hyperdrive mission and if this is in the 8-track cartridge then I want to be on board for the journey.
The vocals are dripping in reverb with enough dirt and whisky soaked into every breath the delivery is perfect from the cool drawl of 'Satisfaction (I want you)' through the cheeky handclaps of 'Chasing Tail' to the smokey dream-like state of 'The Third Eye' its oozing quality.
There's some Stooges gimme danger captured in the heart and soul of 'Used' it reminds me of The mighty Chesterfield Kings and when the band joins in it reaches a giddy high and is a mighty fine tune with all its swirling drama whats not to love?
I love it when the band just rock out like on 'What You Gonna Do Now' No frills just kicking back and doing what they do best. They go straight into the choppy 'Who Knew'. They throw their own spin on the classic 'I Don't Need No Doctor' and sign off a really impressive record with the road worn groove of 'Lights Go Out' that builds like the best groove rock Primal Scream mustered which is a cool place to nestle down in and just play from the heart and soul and leave nothing behind with its cool rhythm and building wah soloing its a top tune to end with.
Ladies and Gentlemen, The Richmond Sluts are back in the groove, and that's good news for us all. Get on it – Tune in – turn up and whig out!
Buy Here
Author: Dom Daley