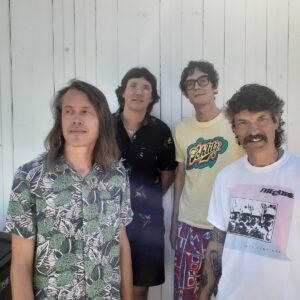 First up this cold and wet UK morning is Autogramm, a synth-driven power-pop band from Seattle, Chicago and Vancouver. They have just announced their latest LP 'Music That Humans Can Play' with an advance single and video for the track "Plastic Punx".
Their first album in over two years will be released on vinyl and digital formats world-wide on November 17th via Stomp Records and Beluga Records EU.
Autogramme – Bandcamp
New York City guitarist, singer-songwriter Steve Conte has released the music video for his latest single "Girl With No Name."
The clip was shot on the streets of NYC & in studio by Natborn Productions' Peter Perenyi & son Orion Perenyi, with motion graphics, lyrics & final touches by David Provan at 12 Inch Media.
The song follows the summer release of his single "Fourth Of July" (co-written with Andy Partridge of XTC).
Conte says, "This is a song of regret…about missed opportunity and lack of skills in meeting someone you're attracted to.
When putting my new album together, I was looking for songs that would fit nicely alongside the songs that Andy Partridge and I had written for it and I kept thinking of this one. I wrote it back in 1984 and never forgot it – which was a good sign.
Because it came to me so long ago I can't exactly remember my process for writing it, except that since I was young & single at that time I was probably experiencing these kinds of situations & feelings on a daily basis!
Musically, I can hear what was influencing me back then; mid 60s Beatles, mid 80s XTC, and that beloved Motown groove from a certain Diana Ross & The Supremes song…"
A follow-up LP to Conte's acclaimed 2021 solo album Bronx Cheer, is expected in Spring 2024 via Steven Van Zandt's Wicked Cool Records.