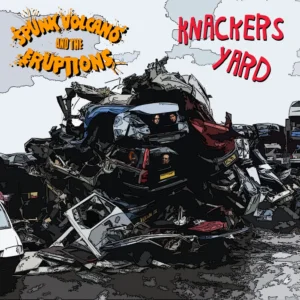 Initially formed back around 2011/12 as a vehicle for Dirt Box Disco guitarist and songwriting supremo Spunk Volcano to air the tunes he'd written that didn't really fit with the day job (although some might argue some actually do fit – especially after Weab made off to pastures new) I now find myself in possession of Eruptions' album number SIX, and I'm left thinking, where did the time go eh?
That's because this time around we're all going down the 'Knackers Yard' as the band prepares to take a well-deserved break after their decade long burst of creativity and insanity. That's right, it's a break, they're not splitting up, just pressing pause on the 'TV God' remote control whilst Spunk and Maff concentrate on the next Dirt Box Disco record, Joey goes off to work with MeMe Detroit and Scott "allegedly" goes back to being a full-time serial killer and Faxe drinker. It's certainly been a prolific (and most excellent) run of releases to date though (let's not forget the 5 EPs the band also released during this time too) with many stone-cold Eruptions classics written along the way. The bazillion dollar question I guess your wondering though, is does 'Knackers Yard' provide the fitting finale (for now)?
Well, the immediate thing that hits me about 'Knackers Yard' is that after the more melodic leaning 'Barry Milner Is Thick' album from 2020 this time around a large proportion of the tunes once again lean more towards the darker/heavier side of Mr Volcano's songwriting portfolio and there are a few tunes on here that could have easily been part of the hard as nails 'Double Bastard' album, with opener 'I Am A Capsule' complete with its UK82 guitar riff and "Fuck Off Leave Me Alone" gang vocal as good a place to start as any. Likewise, 'Madhouse' (or should that be "Fooking Madhouse"?) which whilst not being a cover of a certain tune by a legendary NYC thrash band, could very easily have come out of that scene, complete with a monster chugger of a riff and mid-section that flies off in all directions and is held together by a potty mouthed Spunk chorus that somehow also manages to twist and turn its way into a super catchy second chorus too. Genius stuff!
And therein lies the real appeal of Spunk Volcano & The Eruptions for me though, because whilst 'It's All Kicking Off' and the sublime 'My Tears Get Washed Away' (which somehow manages to make me think of both Wolfsbane and Showaddywaddy in the same 3 minutes run time) are the type of "sing your heads off" top-quality tunes that Spunk has become renowned for penning at a truly alarming rate. It's the polar opposites of the vicious 'Manky Man' and the sombre 'Dead And The Mirror' (yes that's keyboards you can hear) with its almost murder-ballad feel where The Eruptions truly stand apart from Dirt Box Disco. Likewise clock the the flawed brilliance of 'Mordrake' (which you have to hear to fully understand what I'm on about) and then try and second guess what is up next? How about the kick in the coin purse that is 'Pit Bull Facelift', a song GBH would have been proud of writing back in their early Clay Records days.
With 'Knackers Yard' Spunk Volcano takes the life experiences and the heart and soul that a decade of songwriting and touring offers a band and once again turns them into a dozen tracks that pack a punch so fierce, they will shock you to the core, and is that a little tear I feel welling in my eye as the forementioned 'Dead And The Mirror' segues into the CD only final track 'Shit Stirrers & Scaremongers'?
With five final live shows booked running through June to September, which also see The Eruptions back to being a 5-piece once again as Tom returns on guitar, it's no time to be down in the mouth, as its time to party and get yourself down the 'Knackers Yard' when it's released via the band's own Avenue Recordz label on CD only (no vinyl this time) on July 1st.  You can also pre-order your copy right now, along with a rather wonderful-looking limited-edition T-shirt from the link below.
There's only one way to give SV & The Eruptions a proper send-off, and that's by booking your trip to the 'Knackers Yard'. We're all going, are you???
Author: Johnny Hayward