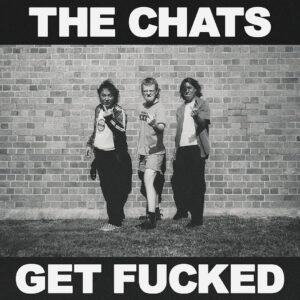 Coming across like a down-under Devitto era Buzzcocks meets AC/DC old Skool the Chats do anything other than getting Fucked on this their second offering of Aussie punk rock.
'GET FUCKED' opens with '6L GTR', a takedown of a speed-crazed status-symbol driver – a critique piqued when Eamon spotted the titular license plate in an airport carpark. It's an album that shows the band's maturity from the off on this here 13 high-velocity punk tracks. To be fair they've hardly matured and started writing prog whilst playing a flute one-legged on a toadstool. This bad boy rips from start to finish, as they'd say down under. Lyrically it covers topics from panic attacks, junkies, prison breaks, the price of smokes, surf mafia, and being drunk in every pub in Brisbane amongst other heady big ticket topics.
There's a rumor that Opener '6L GTR' saw Eamon Sandwith nick a bit of Dave Lee Roth which was taken out of the tune after management got a knockback from Diamond Dave but hey ho them is the breaks they should have just done it and send double D the V sign with a sue us if you want letter. The non-PC album title came from a brainstorming session (imagine that one folks?) where Matt Boggis said imagine how funny it would be if kids go to the record store and ask for Get Fucked from the salesperson. Yeah pretty funny slinging it on yer Christmas list from your nan to pick up. But hey this isn't Roxy Music or Genesis or some high-brow prog This is working-class Aussie punk rock yer Fuckers!
'Struck By Lightening' is a warning to take cover in storms maybe go inside and put this on the earbuds – thundering along with a rapid verse with sloppy doo wap backing vocals and a cautionary tale. the solo is majestic to be fair as the song hammers along. 'Boggo Breakout' is punk as fuck from the vacant riff to the snotty vocals it's another banger and benefits from volume and multiple plays. 'Southport Superman' is just a heads-down race to the finish line in true punk as fuck style. 'Panic Attack' is more restrained from the intro with a military slap on the snare and pluck on the bass before Josh joins in with his Shelly meets Diggle meets the Undertones wall of punk rock guitars lifts the song up.
The first of the long songs is the excellent ' The Price Of Smokes' which is about the economic cost of living stuff where the band thrust the cost of living to the forefront. It's a cool bass and drum intro where they lock in and take this baby to the bridge then drop her off gently. An excellent song that asks the important questions of the day. Sidestep from the heads down crank it up that had preceded it, (See I said The Chats had moved on and matured). Oh hang on 'Dead On Site' is a razor-sharp riff delivering exactly what The Chats fans are clamoring for. Punchy, full throttle, punk rock mixed with some fine Angus Young inspired old school solos – magical stuff!
'Paid Late' is a fine slice of Smash and Grab punk rock before the let's go to the pub banger that is 'I've Been Drunk In Every Pub In Brisbane'. If I'm honest this album has added elements of Rock and old-school hard rock, even when they speed up proceedings it's a great crossover full of energy and street punk rock n roll. Their no longer on Smoko their running the gaff. There's no acoustic ballad but there's lots of loud guitars. I think one of my favourite tracks is 'Emperor Of The Beach' with its cock sure riff that tips the hat to the daddy of tone Steve Jones and is a thumper of a track. The band signs off this second album with the punky 'Getting Better' and so they are. God bless these noisy cunts from down under for they've taught this old dog a few tricks on this album and tightened up the loose ends of the debut and thrown in a few curve balls but above all delivered a fantastic record that I'm thoroughly enjoying
Buy Here
Author: Dom Daley