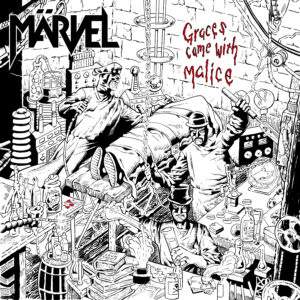 Märvel, the self-proclaimed Barons of High Energy Rock n' Roll, have been treading the boards for two decades now. If you listen to the music before seeing the band, you could be forgiven for assuming they wore greasepaint on their faces, stack-heeled boots on their feet and had a larger-than-life persona to accompany their 70's glam rock sound.
But Märvel ain't Kiss, they ain't even The Hellacopters and I don't think they even party that hard. Hell, I keep forgetting that fact as I get lost in their grooves, such is the power of their high-octane rock n' roll! Märvel are actually a 3-piece Scandinavian outfit who look like the evil henchmen in a 70's superhero TV show and sound like the perfect combo of 70's Kiss and prime Hellacopters, with flourishes of Thin Lizzy thrown about for good measure.
2021 sees The King (guitar/vocals), The Burgher (Bass) and The Vicar (drums) celebrating their 20th anniversary with album number 7 entitled 'Graces Came With Malice'. It happens to be the follow-up to their critically acclaimed (by me anyway) 2019 covers album 'Guilty Pleasures'.
If you know Märvel, or even the namechecked bands above, then you should know what to expect from the Scadinavian trio. High energy rock n' roll is the name of the game and they deliver 10 tracks guaranteed to spice up yer life in 2022. If you're a fan, you'll know there are four singles out there already, if not then hold onto your feather boa, put the glitter bomb to one side and let's delve right in.
The likes of album opener 'Slasher With a Broken Heart' and 'One Common Enemy' are full of familiar riffs, urgent beats and melodies Stanley & Simmons would've killed for in their prime, let alone their twilight years. On 'Sound Of Life Slipping Away' Märvel sound like a band at the top of their game. What a killer tune. It builds with more memorable hooks than one song deserves, to a chorus that insists on you punching your fist in the air. It will imbed itself in your brain from the first listen and you will feel the need to hit repeat again and again.
The poptastic 'Lizard's Tongue' is full of Scott Gorham style leads, sexy Paul Stanley lyricism and more euro rock than I can cope with. It's like Disco Kiss all over again, I loves it! It would seem that The King's vocal tones are just what is desired for these larger-than-life tunes and if you aren't sold after listening to any of these four singles, you best leave these pages and go read NME, coz we are done here!
There's an instant likability to everything Märvel do. Their 70's infused rock n' roll is as 'no frills' as you can get, but the combination of bombastic drums, low slung riffage and high octane vocalisin', mixed with instant melodies and lashings of garage rock goodness is a killer combination not many bands offer in 2022.
They are not afraid of wearing their influences on their sleeves. From the obvious Kiss-isms, to the more traditional, acoustic-led radio rock of the title track, onto the almost camp NWOBHM vibes of closer 'Queen For A Day, 'Graces Came From Malice' has a lot to offer and it's all delivered with the bravado and energy of a band on their first album, with nothing to lose and everything to prove.
If someone had shoved this album in my hands and said it was the highly anticipated new Hellacopters album, I would've believed 'em. It's the album I want Nicke Andersson and his boys to release and they'll have to pull a fast one out of the bag to compete because Märvel sure stole the beat from the lord for this one. Essential listening folks.
Buy Here
Author: Ben Hughes
Märvel Facebook
Märvel Instagram
Märvel Bandcamp