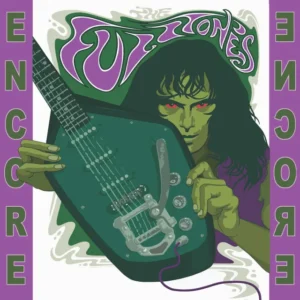 After the last studio album from The Fuzztones paid homage to the scene in NYC that they crawled out of it seems right that Rudi and the gang tie up all the loose ends with this rather fine collection of odds and sods fittingly entitled 'Encore' The Fuzztones offer up no faux retirements or fake goodbyes much like the Ramones did their adios amigos and they were gone. Let's just take a short pause from 2020's 'NYC' and then get the fuck out of dodge leaving a whiff of dry ice and an ear full of top tunes. A little something extra for those who stuck by the band for the long haul so to speak. Rudi Protrudi has gathered the gang for one last wheeze of that organ and damn the fuzzed-up tones have only brought the cowbell for added groove and included Iggy for good measure. What's not to love here folks? Exactly.
Cover versions of obscure gems such as 'Land Of Nod' by Rare Earth, 'Plastic People' by late '60s psych-rockers The Wildwood. The shimmering cymbal clash of 'Marble Hall' with its cathedral-like backing vocals. But don't think that The Fuzztones can't still rock out when they need to as 'Eyes In The Back Of My Head' testifies. It also features special guest appearances by Steve Mackay of The Stooges and Wally Waller of The Pretty Things for weight and added authenticity.
The closing track is a natty 'Santa Clause' before the Fuzz pedal is put away and the record groove loops out. I hope Gene and Paul have a word with Rudi and the gang and can find it in themselves to not stop and retire because it'll be a sad day when I don't get to spin a new Fuzztones record a band I've listened to and loved since I saw them support the Damned in the mid-80s. If it is that last refrain from these NYC legends then take a bow and lap up the applause which is thoroughly deserved. 'Encore' a fitting a worthy bow right there. Great stuff!
Buy Here