I think its fair to say that a band from Oop Norf over on the East Coast to be more precise have just delivered their finest body of work to date in the shape of the fantastic 'Lime', and when looking at who we could interview Ming City Rockers were right at the top of our list. they've always delivered fantastic tunes and they're a band we've followed and reviewed from their inseption wayyy back in the old Uber Rock days so it was a no brainer for us here at RPM Online and when we reached out to the Mingers we were delighted when they said yeah!
So, sit out in the sunshine, pour yourself a glass of fizz put on your shades for here is our exchange with the wonderful Ming City Rockers.
Do you have a thing for fruity titles to albums? How come?
We sure do. What we do is secret.
You've slimmed the band down to a three-piece, was this a decision out of necessity or did it just happen that way?
Kinda both, during the plague of 2020, our bass player lived in Manchester so he couldn't really get together with us to write anything. So, we started working on the album as a 3 piece and kinda just kept it that way.
We play really well together right now, so we're probs gonna keep it this way, we're better than we've ever been. It's harder to sound good with just 3 of us so we had to get better. It's made our song writing better too. 
I thought that 'Lime' is the band's finest piece to date, can you tell us how the album came together?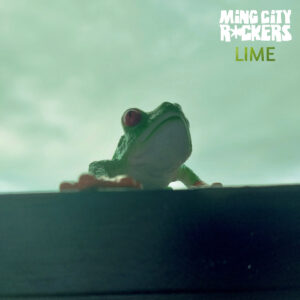 Yours is a question with many answers. Most of it was written during lockdown, and we recorded most of it in our living room.
The overall mental health of the band was questionable to say the least, and we had no idea what we were doing. The album had a budget of about £75. Still can't believe the album actually got finished.
We recorded it over the course of last year. We used Cornerstone Studio in Grimsby to record the drums and we had to do it in bits coz we were absolutely skint. We recorded everything else in our flat and Clancey mixed and produced it. It was really challenging and way harder than we thought it was gonna be, but it worked out really well. We're gonna do the next one ourselves too.
A lot of people have told us they think it's our best album, that means so much to us.
Is it fair to say there were big plans for 'Lemon' that for one reason or another didn't quite pan out (using a big producer) length of time to get it made etc How do you look back on that time?
We actually wrote and recorded it like 5 months after our first album came out, it was the record label that waited ages to put it out, you'd have to ask them as to why.
Fondley, good times.
You've played some sporadic dates since 'Lime' was released, are there any plans for a UK tour or further afield maybe Europe?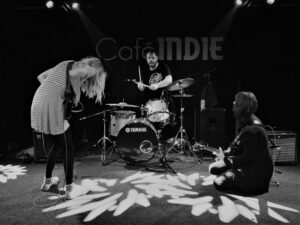 Yeah, we're kinda concentrating on writing and recording our next album now though, so they'll probs be with the release of that. We really want to play in Europe again, but it's really complicated these days with Brexit and whatnot. We used to do like 30 date tours there a few years ago, but it's scary to book that now, knowing we might get turned away at the border.
What about pressing the new album on vinyl? What with the resurgence in record collectors is it something you plan to do? what with the cost and time it takes can we expect a press on lime wax?
We really want to, yeah at some point. Don't hold your breath though.
What are your immediate plans for the rest of 2023?
We've pretty much finished writing the next album, we're gonna record it this summer and then release it later this year, hopefully. We learned a lot from recording LIME ourselves, so really looking forward to the next album. It is also fruit themed.
Buy Ming City Rockers Here