Lighting up the airwaves around at RPM HQ is this tasty bunch of foot stompers. Check em out. A fine starting eleven if ever there was one. All Norman Hunter and Billy Bremner if you don't mind.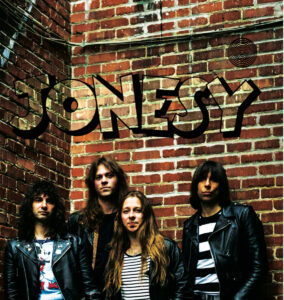 Jonesy – 'Doppelgangbangers' (Heavy Medication Records) Heres a fulsome foursome packed with sleazy good times courtesy of Heavy Medication Records. From the ivory tinkling banger that opens this EP '(I Don't Do) Blondes (No More)' its a party anthem for those who couldn't care about cancel culture and just love partying and good time rock n roll. then follow it up with a slide guitar driven rocker '(If Its Not Rock N Roll) Go TO Hell' with a boot stomping DC meets Kiss meets a whole bunch of cowbell tub thumping rock n roll made for chuggin beers and picking your nails with a switchblade. 'Gudbuy' is Slade on speed with some added boogie just to reignite the party. 'Furry White Fury' is like the sleazy illegitimate bastard of every classic rock n roll tune with more cowbell and five mile wide smiles. Love this band and respect to Heavy Medication For taking this to market. What a whapping ten inches of hot throbbing dirty wax – Its a winner!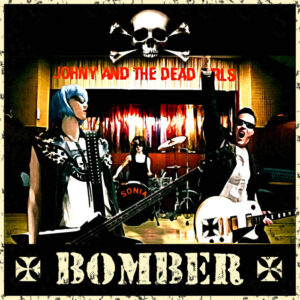 Johny & The Dead Girls – 'Bomber' (Self Release) Oh boy hold onto your wigs kids Mr. Skullknuckles is here to show you how to do a cover as it should be done with his sleazy yet fabulously glamorous take on this Motorhead classic. No need to hide behind your fingers folks this is a proper doff of the cap to a classic. Bite, personality, and a lot of fun – lovin it! There is a new mini EP on the horizon and this was recorded at the same time however it's an exclusive on the Bandcamp page so go fill yer boots.
Yobs – Fortune Teller (Fuzz Club Records) What a two minute blast of head fucking noise from Liverpools Yobs. Out of the rubble of the now-defunct Liverpool bands Weird Sex (Roadkill Records) and Ohmns, with a pair of live shows on the horizon at London, The Night Owl on Nov 24th and Nov 25 – Liverpool, @ Round The Corner. This one will shake off any hangover cobwebs you might have. Banger!
Dwarves – 'Voodoo' (Greedy Records) The last punk band has a new smokin album ready to be released this month and heres a sample of a track from it. Spooktacular song from a right thrashingly good Dwarves album there are another nineteen like this one coming down the barrel and people say punk is dead or theres nothing exciting around anymore but hey let me tell you this is still the dogs danglies and the Dwarves are still fuckin awesome.
Wytch Pycknyck – 'Columbo No5'(Property Of The Lost Records) Hastings based psychedelic punks Wytch Pycknyk have been causing a stir lately with some incendury live performances. 'Columbo No5' is the first release on Property of the Lost with a Debut album out early '24. It a howling hoot of a song with some wild and quite frankly reckless guitar riffage over that hypnotic beat. hit it up and give your head a good old bashing.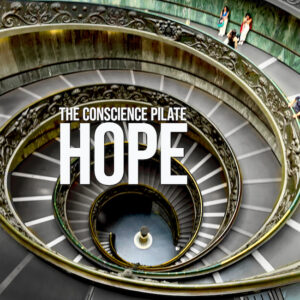 The Conscience Pilate – 'Hope' The final single from the superb Conscience Pilate fronted by the talented Neil Leyton. The B-side of "Hope" is TCP's cover of "April Skies" by The Jesus and Mary Chain. Hope is Written by Neil Leyton and Edward Pond and is a genre defying slice of massive hook on the chorus and the atmosperic guitar twisting throughout the verse whilst the anchor is that thumping bass guitar. Single of the month fo rme this I keep returning to it over and over and its given me a real thirst for the full album when it drops. Great stuff.
Twitter: https://twitter.com/TCPyyz
Website: https://www.theconsciencepilate.com
Facebook: http://www.facebook.com/theconsciencepilate
Instagram: http://www.instagram.com/theconsciencepilate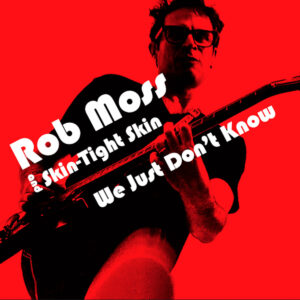 Rob Moss & Skin Tight Skin – 'We Just Don't Know' (Bandcamp) Rob is back with new music and this time hes brought a familiar set of collabourators on this the first slice of DIY punk n roll with its fair share of Ramones tempo and rockin guitar breaks and gang vocals courtesy of Dave McEwan, Dwight Reid, Greg Lonesome, Mike Williamson, Steve Vincent, Todd Zimmer. Its a blast as you'd expect and theres more to come from Rob which we're looking forward to. Hit him up its trashy its punky its fun besides its only Rock n Rol baby!
Autogramm – 'Plastic Punx' (Stomp Records/Beluga Records) Canadian and North American new wave gents release 'Plastic Punx' from their forthcoming album as it bristles with energy and a rampant tempo on a borrowed riff from SS Sputnic as it motors along with its infectious melody and tempo.
Leatherman – 'Telephone' (Legless Records) Melbourne Australia delivers again with this new 7″ single out on Legless Records. Muscular riff-n-roll with some punk rock attitude and an abundance of classic guitar licks Hell, there is even a cowbell in there so what not to like? The B side is a carefree rocker 'Tryin' 2 4get' that'll have you reaching for the studded wrist band to wear whilst you strap on the tennis racket for some mirror posing along to a great single.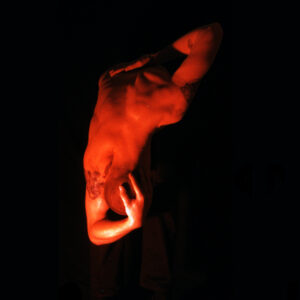 Animal Shithouse – 'CK' (lockjaw Records) Synth punks with the best new name in punk circles Finding inspiration in the likes of Soft Play and Ladybird from their hometown, alongside alternative legends like Rage Against the Machine and the Sex Pistols, they mesh the old and the traditional and the innovative to deliver a swift sonic gut punch! Bosh ave it!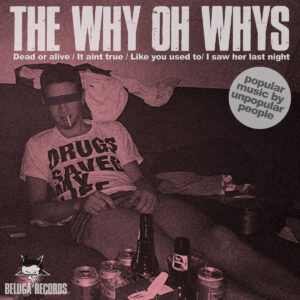 The Why Oh Whys – 'Dead Or Alive' (Beluga Records) Another new band on me but they've been doing this since 2017. Guitar driven pop songs with a tonne of energy its rock n roll baby and if its on Beluga it must be worth investigating right? right! 'Dead Or Alive' open up this EP with a strong melody that is just infectious. 'If It Aint True' is more of the same with a dreamy tempo and lovely crisp jangly guitar and back beat cruising right the way through. 'Like YO uUsed To' is an upbeat 60s inspired rocker plenty of britpop beatnik melody happening here and no doubt some nice cuban heels for good measure. Saving the best til last 'I Saw Her Last Night' is the pick of the bunch with a more spikey delivery and super col lucky strike no filter attitude pushign on through. Check it out its damn good.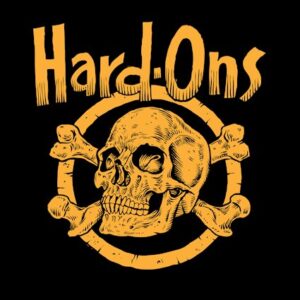 The Hard Ons – 'In Falls Everything' (Golden Robot Records) Fresh from a successful tour of Europe, and Australian album launch tour, perennial favourites, Hard-Ons release their new single 'In Falls Everything'. 'In Falls Everything' is the latest single from the acclaimed album 'Ripper '23' and its got a hefty pair of swinging dogs danglies with a huge rock solid thumping rhythm. Tim Rogers is front and centre and gives the band a new release of energy, Also contributing to songwriting, The difference is palpable, an absolute treat to the ears of fans old, new and indifferent. 
Cult Figures – 'Rapid 40 Slideout (Gare Du Nord Records) What a great uptempo slice of post punk this is. Lifted from their new album this is a real banger bristling with energy. No fuckin about its just down to business and writing top tunes. dont beieve me? hit the video then nod your noggin and click the link you wont be dissappointed.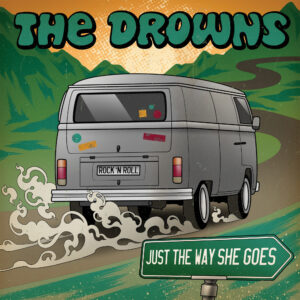 The Drowns – Just The Way She Goes (Pirates Press Records) The Drowns' penchant for writing 50's inspired rock with a punk attitude! It will be coming out November 24th ahead of the bands full length album.
The Drowns' take on the classic rock 'n roll story of "boy-meets-girl, boy & girl go for a joyride in a classic muscle car," with a steady backbeat that will get any listener moving! If this is a taste of whats to come on the album then bring it on its going to be top quality.