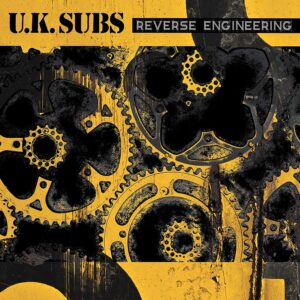 "And now the end is near and so we face the final curtain"… or something like that. After completing the A-Z and then having a bazillion compilation albums come out, Two A-Z complete CD box sets, singles comps, live comps, covers Albums, 10" reissues. It's certainly been a fantastic time to be a UK Subs fan (Even if it's been heavy on the bank balance) we've arrived at the point where I believe the band has said time is being called on their recording career. Live shows are coming thick and fast and showing no sign of relenting.
If this is indeed to be the final record under the UK Subs monicker for Charlie and the boys then it's fair to say they are going out in style and leaving us with a piece of work that stands tall next to their very best album and I sincerely mean that because 'Reverse Engineering' is an absolute fucking belter.
Charlie sounds better than he has for 20 years (the covid downtime must have helped his voice recover from all those hundreds of shows he didn't have to sing at and if Alvin was paid by the note he'd be a millionaire. The songwriting is shared out and Straughan steps up and delivers one of my favourite Subs songs for many a year in 'C60 Audio' but more of that laters. The middle section of this album is some of the best Subs writing for years with the thumping 'Hoist The Sail' with its raw guitar intro and gang vocals as Admiral Harper rallies the shipmates for a battering ram of a verse that hacks and slashes towards the solo. Great stuff. It's only the starter for the upbeat 'Kill Me' I know you wouldn't think it by the title or the lyrics but the tempo and playing are excellent. It's one of those happy-go-lucky Subs tracks. 'Political Amo' is an Oliver penned track that rushes out the blocks. As you'd imagine it's a sprightly number with a modern feel to it with a strong melody.
There are a pair of Alvin-sung songs next with a smoldering 'Slavery' hitting you like a HGV. If you're not familiar with Alvin's style of songwriting now then let's just say this one is uncompromising and full of big groove as the rhythm is rock solid and Alvin's vocal is similar to his former employer Mr Pop and if this was to appear as a new Iggy single people would go nuts about it, the reality is, it's laid to rest at the thick end of a UK Subs album that's how good this record is.
The UK Subs aren't signing out quietly with a whimper as 'Statement' testifies. They're out of the trench and taking it to the enemy leading the charge, galloping along with this as the soundtrack again with some mighty fine musicianship with the guitar right up in the mix hacking and slashing away like a maniac – exciting stuff!
It's not all galloping charging about mind. The intro for 'The Night Holds The Key' is low-key and restrained but it's short-lived. The vocals leading to the chorus are superb and another classic Subs song unfolds. The record signs off with a real thumper written by Charlie. 'Waiting For Godot' with a cool verse-chorus set up where the band joins on the title repeat. its a more measured tempo that's a fantastic way to wrap this album up. Go out with a track every bit as strong as the opener 'Bad Acid' that shows the UK Subs are still one of the very best the UK has to offer on studio recordings. They came out swinging over 40 years ago and sign off an incredible catalogue of records with 'Reverse Engineering' every bit as vital as at any period of their illustrious career. Trust me when I say 'Reverse Engineering' is an essential purchase. Get your mitts on a copy by any means necessary. Superb stuff just Buy it!
Buy Here or for those in the UK Time and Matter have limited copies Here
Author: Dom Daley