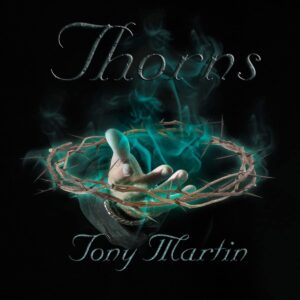 Black Sabbath are no doubt one of the most discussed bands in heavy metal history. There's one era though that, (somewhat unfairly in my opinion) doesn't seem to get as much love as the much-revered Ozzy Osbourne and Ronnie James Dio incarnations, and that's the Tony Martin era. Martin replaced Glenn Hughes in 1987 after the album that was effectively a Toni Iommi solo album 'Seventh Star', and we first heard him sing on the 'Eternal Idol' album. His fantastic vocal range fitted well within the band and he went on to record another four studio albums with Sabbath – the fantastic 'Headless Cross', as well as 'Tyr', 'Cross Purposes' and 'Forbidden'. He also featured on a live album: Cross Purposes Live.
Strangely, his contribution to the band seems to have been almost deleted by the Sabbath camp. Have look on Spotify etc and you won't find any of the Tony Martin stuff apart from the 'Eternal Idol'. Tony Iommi has hinted at releasing a remastered box set of the material in the future though, let's hope that comes to fruition. It makes no sense to me to essentially erase a long period of work from Sabbath that gave us some very strong material. I can only assume it's because this time in Sabbath's history was their least successful. Who knows? The late, great Cozy Powell, who played on many of the albums with Martin, has gone on record saying that Martin was Sabbath's best singer. Praise indeed! I loved the 'Headless Cross' and 'Tyr' albums myself, and vinyl copies sell for big money online these days, they seem to be very collectable.
Martin has released solo material sparsely over the years, the first effort being 1992s Back Where I Belong which was released when Sabbath had reformed the Dio era line up with drummer Vinny Appice and released the successful 'Dehumanizer'. We had to wait until 2005 for the follow up: 'Scream'. He has lent his talents to many different collaborations over the years, he has worked with the likes of Blue Murder, Secret Society, Sonic Overlords, The Cage, Giuntini, as well as teaming up with ex Sabbath and ELO drummer Bev Bevan with his band Quill. He has certainly kept himself busy.
With his latest album Thorns, we find Martin in fine voice, that range is most definitely still there, and he sounds as powerful as ever. He has enlisted a fine array of musicians to accompany him here, Danny Needham (Venom), Magnus Rosen (HammerFall), Scott McClellan (who helped co- write the album) and Greg Smith who performed with Alice Cooper, Rainbow etc.
The album is a real heavy slab of metal. Opening track 'As the World Burns' is a full throttle, double bass drum heavy assault with some pummelling riffs, and a superb performance from Martin. I had seen the video for this track floating around on social media and was suitably impressed. A fantastic song! 'Black Widow Angel' has a sludgy feel with lots of stabbing accents and some fantastic bass playing from Rosen. 'Book of Shadows' has a gothic feel with its haunting chants and operatic vocals. 'Damned by You' features some violin along with the crunching guitars and works well! No Shame is a straight-ahead rocker which will get your head nodding along. 'Passion Killer' has an awesome chug along riff with some solid drumming from Venom tub thumper Danny Needham. 'Run Like the Devil' showcases Martin's vocal range, he seems to hit those high notes effortlessly. 'This is your Damnation' is strange little ditty strummed aimlessly on acoustic guitar, it's extremely catchy though and sticks in your head instantly. The album closes on a high point with the epic title track which features a guest appearance from the fantastic Pamela Moore. Queensryche fans will know her as Sister Mary from the 'Operation Mindcrime' album.
Overall, this is a very strong traditional heavy metal album that will appeal to metal fans across the board. Virtuoso performances, great songs and good production values make the album a very pleasurable listen. Tony Martin still has a lot to offer his loyal fan base, he should pick up many new fans with Thorns. This album really deserves to be heard! The album is released today and is available on CD digipak with a double vinyl LP to be released further down the line.
Buy Here
Author: Kenny Kendrick