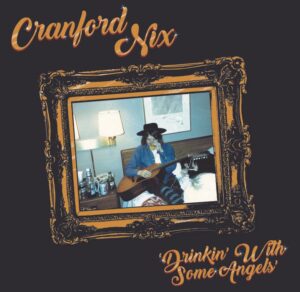 For those who don't know Cranford Nix was the singer-songwriter born January 17, 1969 – Died March 12, 2002, of a drug overdose, yup way too soon. I still can't believe its been twenty years!
Nix was a heroin addict and an alcoholic and had been sent to rehab four times. He escaped from rehab three of those times but stayed and completed it the fourth time. His time in rehab inspired him to write his most infamous song 'Cigarettes and Heroin' which isn't present here on these recordings but if you've never heard it you need to. Nix was the frontman for The Malakas (good luck picking up their CD/LP it costs a fortune if you can track a copy down).
If you're quick you will be able to pick up this live recording from 1990 warts n all but it has charm and has a peter pan cheeky innocence about it but we know that's not the case. He was a talented songwriter that's not up for debate it's a fact. There are parallels to be drawn with Johnny Thunders performances. It seems sometimes chaotic and teetering on the edge of a big black hole and had it fallen that would also have been fine.
I do think about artists like Cranford and wonder what they could have produced had they won their battle with addiction and come out the other side still making music I think Cranford had so much to give. His cover of the Stones 'Dead FLowers' is appropriate and heartwarming. Sadly there are only eleven tracks here and I'd have loved to hear more. There have been loads of recordings on the web over the years of demos and live recordings but this is a really cool set that fans will be all over.
You get Ricky Rat joining in on the closing number, 'Sympathy For The Devil' but the rough diamonds are 'You're Gonna End Up Dead' which is a beautiful tune, and if you want to hear raw, spilled heart lyrics then this is it. 'I Just Need A Pill' is like a wild horse Cranford is trying to harness and get under control and ride it like he knows what he's doing. 'Spiders And Snakes' is a great melody and there's a lost soul in its spirit one that makes me sad for the loss but grateful that we've got the music Rest In Peace Cranford Nix I94 has got your back and this is a tonic for the fans. Great record and tunes – Buy it!
Buy Here
Author: Dom Daley