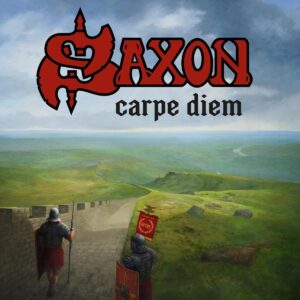 Saxon have been a mainstay in my life since I was 13 years old. My school pal Tigger gave me a cassette of their Strong Arm Metal compilation, and my life changed the moment I pressed play on that TDK C90 and Strong Arm of the Law came chugging out of the speakers. They introduced me to the world of heavy metal, and I have been a fan ever since. The band have had their ups and downs, but despite this they have (mainly) stuck to their trademark traditional metal sound. Of course, their most successful period was in the 80s starting as a forerunner of the NWOBHM movement, but they were head and shoulders above many of the other bands that faded away, except for Iron Maiden and Motorhead (yes, I do consider Motorhead a NWOBHM band!). Saxon flew the flag of heavy metal all over the world and influenced many of the bands to come after them in the thrash movement. A band you may have heard of called Metallica played one of their earliest gigs supporting Saxon. (Don't mention the fan incident!)
Saxon have had an amazingly prolific career and their latest effort Carpe Diem is unbelievably their 23rd studio album. The band have released a fantastic succession of albums in the last eleven years or so starting with Call to Arms in 2011, along with other highlights in Sacrifice, Battering Ram, and Thunderbolt. I would say this period is up there with their strongest material. Many would argue that a major aspect in the quality of their more recent material would be in no small part due to producer extraordinaire and part-time member of Judas Priest, Andy Sneap. (Fun fact: Andy produced an album called Sugarbuzz by the band Whatever in the 90s, and this scribe played drums in the band! He was also our live sound engineer and loves a Phall curry!).
The production on Carpe Diem is incredible as we have come to expect from Sneap, I must also comment on Biff Byford's voice. He sounds as good (if not better) as he did back in the early days of Saxon, no small feat for a man who recently suffered a heart attack, not sure if that's where the album's title came from, but Seize the Day seems apt!  The opening of the album's title track starts off with an atmospheric intro before a drum flourish gives way to a scream from Biff that could be something from Wheels of Steel! No sign of Biff retiring any time soon!
Carpe Diem gives us ten leather studded tracks of headbanging glory as only the Barnsley big teasers can deliver. This album does seem to be a bit more stripped down and lean compared to the other recent albums. This is no bad thing of course, big riffs courtesy of Paul Quinn and Doug Scarratt, pounding bass lines from the forever new kid Nibbs Carter, and the constantly outstanding Nigel Glockler in the engine room show the young un's how to do this 'eavy metal business. The title track is a head down, balls-out barnstormer with some glorious riffage and vocal gymnastics from Mr Byford, bloody marvelous!
Covid inspired track Remember the Fallen kicks off with another big chugging riff and kind of reminds me of another Saxon track about human disaster, Red Alert from their 1988 album Destiny, that song being about the Chernobyl incident. Saxon have always had great songs about historical events, The Eagle has Landed, Dallas 1 PM etc.. (I swear I learned so much more about history from metal bands that I ever did in school!) The track has a great video to go with it too with lots of news footage of the pandemic.
The entire album embraces Saxon's signature sound and like many other of the giants of metal still around, you know exactly who it is instantly. Age of Steam steams along (sorry!) nicely with Nibs and Nigel locking as tightly as the proverbial duck's backside! The pace slows a little for the epic 'The Pilgrimage' but we are soon back in breakneck territory for the brilliant 'Dambusters' (I can't believe Saxon haven't had a song about the RAF bombers before!), Glockler again shows why he is one of metals most influential drummers here with his double bass barrage. The album continues to impress with more fantastic, blazing metal with tracks like 'Super Nova', 'All For One', and the brilliant 'Lady in Gray'.
Saxon has proven yet again why their metal eagle continues to fly so high. As I write this, the band is playing to sold-out audiences in Manchester and London with Uriah Heep, Diamond Head, and Girlschool in support. Carpe Diem is another quality collection of songs to add to their legacy, Saxon has done it again, right, I'm off to Seize the Day!
Buy Here
Author: Kenny Kendrick