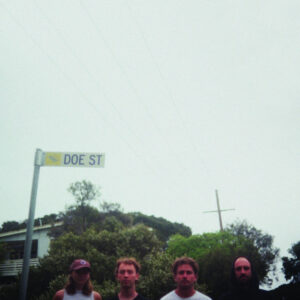 Australia has always delivered great bands but over the past half-decade or so, it's been delivering by the bucket load. Some of the finest alternative bands and records anywhere in this spinning rock we inhabit.
From old school rockers like AC/DC to proto-punk legends like Radio Birdman or The Saints to relative newcomers like Amyl & The Sniffers, The Chats or Legends like The New Christs, Hard-Ons, The Living end, and The Cosmic Psychos to modern-day (Comparative) newcomers who are carving out rave reviews with us like Civic and Clowns (*By no means an exhaustive list mind – further proof of how rich the current talent is down under) One of the best we've covered would have to be Stiff Richards. Well, whilst we wait for the new Stiff Richards long-player how about Doe St, a name you can add to this impressive and illustrious list of artists. Doe St consists of 'Tom Duell' from Peninsula-based blues-rockers 'BLEACH' is on Lead Vocals / Guitar, 'Sharni Paris' on Guitar / Vocals / Harp.'Mawson' (STIFF RICHARDS) on bass & finally 'Kalani Vozzo' on drums.
'Doe St' is an eclectic mix of alternative music not particularly Australian punk rock nor is it indie but if you were to throw Lemonheads into a mixer with a lot of the bands mentioned we might be getting towards the sound that makes up Doe st.
It's an eclectic mix but there is a flow to the music and the arrangments are sometimes brilliant 'Pandanus' being catchy and laid back and incorporating some harmonica and a choppy riff to cultivate an absolute banger!
Recorded during the pandemic (what wasn't these days) this record holds seven tunes ranging from the uptempo opener 'Race To 25' with the spoken/narrated lyrics to the over-driven guitars to the chorus with a cool harmony vocal. 'Ringing' is laid back and widescreen in its appeal building into a great chorus (possibly a favourite on the album).
'Noble Pride' is somewhat dreamy in the picked guitar intro riffing on something of a Pavement tip if you're looking for a loose reference point. Then to close the record off we are taken on a cinematic journey over six minutes long it's an epic song and leaves you feeling positive and full of energy. Great song and a great record. 'Doe St' deserves your attention so don't take my word for it get out there and live life and have this as the soundtrack.
Buy Here