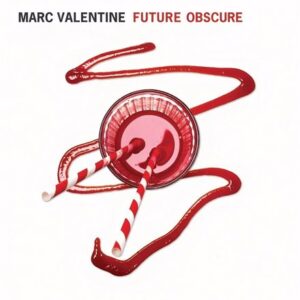 When a band goes on hiatus, however brief, it's usually a reliance on the back catalogue to get the fans through the downtime; not so Last Great Dreamers, the once-antiquated dandies of the UK rock scene dusted off and rebooted in the last decade. No, the merry band of loyal supporters of this regenerated outfit revolving around the core of mainstays Marc Valentine and Slyder Smith has not one, but two new spin-off albums to get excited about while the Dreamers catch up on some much-needed beauty sleep.
Slyder Smith & the Oblivion Kids (Dreamers' rhythm section, bassist Tim Emery and drummer, Rik Pratt) have a debut long player, 'Charm Offensive', released on 19th August through Ray Records, but first out of the last great gate is Marc Valentine and his 'Future Obscure' album, coming to a stereo near you on 8th July.
In the short space of time that news of this new, ten-track (twelve-track if you get the bonus-track-riddled compact disc) album has been with us Marc has wasted little time by releasing four (count 'em!) tracks as digital singles: album opener, 'Last Train Tonight'; 'Mornington Avenue', featuring Matt Dangerfield from The Boys; and double A-side, 'Death Is Overrated/Break My Heart Anyway', the latter featuring a guest appearance from Wreckless Eric. So, I have to approach this review from a slightly different angle: listeners already know what to expect from the album, I simply have to reassure them that the best tracks haven't already been lifted from the tracklisting leaving nothing but filler. Spoiler alert: everything is going to be okay…
A Summer release is perfect for 'Future Obscure'; the tracks blurring between that expected lilting power pop that is trademark Valentine and a hazy, lazy sentimentality, both conspiring to make a perfect soundtrack to long, hot days and cooler nights of reminiscence.
With synths set to stun, some of the power pop tunes that litter the tracklisting – the glorious 'Swiss Launderette', the great 'Ghosts of Amsterdam' – have every chance of filling a Fountains Of Wayne-shaped hole in the New Releases section of your record collection, while the more emotional-button-pushers – the terrific throwback that is 'Arcades', the fine 'Fade Out In Blue' for example – will have you questioning if that funny feeling that you have in your head as the sun sets is from the Summertime cider or the inevitable clawing back of memories. There's even a tip of the bowler hat to the LGD day job via the lowslung rock 'n' roll of the fantastic 'Zodiac Hotel'.
Mixed and produced by Dave Draper, that 'Future Obscure' sounds great should come as no surprise. That goes for the musicians that Valentine has surrounded himself with too: Richard Davies on guitar, and a return for former Last Great Dreamers rhythm section, bassist Steve Fielding and drummer Denley Slade, the latter so consistent in his work that he sounds almost robotic. Catch these guys backing Marc on a UK tour that starts on album release day.
We need great nights out at rock shows with friends and bright and breezy rock 'n' roll records like 'Future Obscure' at times like these. That three minute songs and small rooms full of sweaty people can help save us from the stresses of modern life is testament to the true power of music. Forget what that man from Sheffield with a creaking voice once (almost) told us; you CAN stop the hurt inside, when love and hiatus collide…
Buy Here
Author: Gaz Tidey