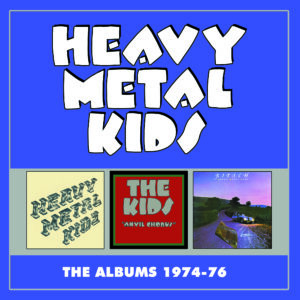 My introduction to the Heavy Metal Kids came in the very early 80s via a second-hand copy of an Atlantic Records double LP compilation put together by Alan 'Fluff' Freeman called 'By Invitation Only'. Where alongside the likes of The Rolling Stones, Led Zeppelin, Aretha Franklin and Buffalo Springfield it was the previously unheard Heavy Metal Kids who really boxed the ears of my early-teen self. Seemingly blending together everything I had loved about rock music up to that point in my life into a 4 minute 52 second barnstormer called 'Rock 'N' Roll Man' I was whisked away to a place in my mind that all the great bands take me, and to this day way I hear that buzzsaw vocal intro from the legendary Gary Holton, I still get bloody goosebumps.
I mention the company that the Heavy Metal Kids were keeping back around the timeframe the albums within this 3 CD box set were recorded and released simply to set the scale of what might have been for the band. They were a band totally loved by many of those in the know, and enjoyed having a good time just as much as writing a good tune (and there were loads of those as you'll soon find out) much as it would seem to their detriment.
Anyway, not long after discovering the band I was soon on the trail for their 1974 self-titled album, and a well-loved copy was acquired from Rockaway Records in Newport, a market stall renowned for being at the forefront of pretty much every subcultural underground music movement during their time. I always thought it strange back in the day to pick this record up from the small group of punks who ran the stall, but all these years on, its no mystery at all really, and just like when John Lydon auditioned for the Sex Pistols by miming to Alice Cooper, the Heavy Metal Kids music and indeed (looking at the band photo of the back of the LP) dress sense perfectly smudged the boundaries between genres. The Heavy Metal Kids were punks long before punk rock was a thing in the UK, and whilst a few of their tunes touched on being almost music hall by nature, that was a source of influence Ian Dury based a large chunk of his post 1978 career around. So, let's leave the are they heavy metal? Are they punk? Are they vaudeville? Discussion right here, because what Heavy Metal Kids were, and let's not forget still are, is all of those things, and a whole lot bloody more. And this 39 track (11 of which are bonus tracks) box set is the perfect way to celebrate their greatness.
Lovingly assembled by Cherry Red Records' 7TS imprint, this 3CD clamshell box, brings together the aforementioned self titled Heavy Metal Kids album, their second album for Atlantic 'Anvil Chorus' and their one and only album for RAK 'Kitsch'. And whilst I'm not going to go through the band's history in this review there's a great Dave Ling penned 32 page booklet included to do that very job for you.
I do have all 3 albums in my collection already on a variety of different formats, so for yours truly it's the 11 bonus tracks that were the real draw, and they certainly do not disappoint, in fact a few of them, spread across the 3 CDs, are previously unreleased, so much so that Keith Boyce (the band's long-standing drummer) was seen to comment on social media recently that many of them he hadn't heard since the mid seventies when they are originally recorded. Plus, unlike some bonus tracks that get added to these kinds of collections the audio quality of these tracks is absolutely stunning, some mucho kudos to Mark Brennan the box set's co-ordinator for finally giving us the chance to hear these tunes.
So, alongside the original 10 track debut album which still sounds absolutely amazing, we get 4 bonus tracks in the shape of boogie rocker 'Bottle of Red Wine', the very Humble Pie sounding 'Run Run Run', the Zeppelin-esque 'No Time To Talk To You' plus a 7" edit of the track that started it all for me, 'Rock 'N' Roll Man'. One thing I'd be interested in knowing (which sadly isn't contained within the sleeve notes), is who is sharing vocals with Gary Holton on a couple of these tracks, I'm guessing it must be Danny Peyronel?
For their underrated second album 'Anvil Chorus' (a record the band toured alongside the likes of Rush, Kiss, and the aforementioned Alice Cooper) we get the original 10 track album plus 2 bonus tracks, and this time around, it's the riotous single 'Ain't Nothing But A House Party' (a song I've always thought sounded like a party hardy Small Faces) plus a straight up 70s 'thumbs in belt loops' rocker called 'Stand Back', which I'd never heard before.
Which just leaves 'Kitsch' and 5 bonus tracks added to the original 8 track album to round out the set. Now 2 of these bonus tracks (the 'Jackie The Lad' sequel 'Hey Little Girl' and the amazing 'Delirious') were previously on the Lemon (another imprint of Cherry Red) CD pressing of the album, whilst the previously unreleased 'Boogie Woogie' delivers 12 gold bars of primetime Heavy Metal Kids and 'You Got I Want' is an early, less-music hall, version of 'Hey Little Girl'. It's the last track Holton ever recorded with the Heavy Metal Kids, the curiously titled 'New Wave' that aptly brings the curtain down here. The musical track being much more Uriah Heep influenced than Ultravox, its Holton's sneering vocal that really seals the deal.
Talking of which, I've always thought it a travesty that the Heavy Metal Kids get mentioned as almost an aside when people are talking about Gary Holton's untimely and tragic demise. Yes of course he was part of a huge 80s TV hit via his role as Wayne Winston Norris in ITV's Auf Wiedersehen Pet, but as this fantastic box set once again proves whilst he was a decent actor, he was a far, far, greater singer.
Look, if the magic of the Heavy Metal Kids music is missing from your collection, do yourself a favour, snap up a copy of this glorious box set, and discover the goosebumps all for yourself.
Amazing stuff!
Buy Here
Author: Johnny Hayward