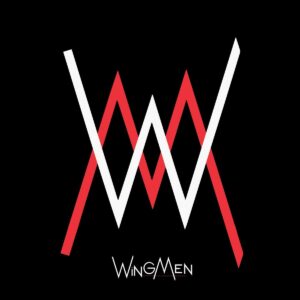 As 2022 came to an end, I wondered if there'd be many new albums to really interest me in this new year. A lot of my favourite bands had just released albums, and I'm always looking for exciting, new bands. Then, two things happened almost simultaneously. The Damned showed a tantalising clip of snippets of songs from their upcoming album, and Wingmen released tracks from their debut.
Now, whilst new, young bands can be exciting, this isn't exactly a project by whippersnappers. However, the combined experience from their individual bands does whet the appetite. With Baz Warne of The Stranglers, Paul Gray of The Damned, Ruts D.C's Leigh Heggarty and Marty Love from Johnny Moped, it's surely worth a spin. Well, yes, it is. And don't call me Shirley.
Initially a studio project, they quickly realised that they had a collection of quality songs that deserved to be heard. What strikes on first listen is that, while the parts were recorded remotely, it doesn't sound that way. It gels like a band who've been together for a while, and enjoy playing together.
I'm not the first to say that it often sounds like elements of The Stranglers and The Damned, particularly 'Strawberries', but this is hardly surprising and, also, not a criticism. I suppose it's inevitable, though the album has a distinct feel to it. As a fan of both bands, it's a real treat to hear new songs worthy of their respective back catalogues.
And from the instrumental 'Starting Blocks', it doesn't disappoint. 'The Last Cigarette' is a breezy piece of psychedelic pop, not unlike The Sensible Gray Cells, 'Louis Smoked The Bible' is a classy, jazzy tune. Mature pop with a dark edge, as you might expect. 'Brits' tackles the downside of some of the clichés of being from the septic isles; "you complain when you're grounded, you complain when you fly".
'I Would If I Could' handles the subject of health care privatisation in a style that would please World Party, while 'Down In The Hole' is the sort of tune you could imagine Mr Vanian relishing singing, complete with lysergic keyboards and theatrical drama. 'Oh, What A Carry On' describes the Little England mentality of those brave Brexiteers, and 'Backstage At The Opera' is driven by a bass line that is classic Paul Gray.
Overall, very impressive, and they are joined by Rob Coombes of Supergrass on keyboards for their upcoming tour, so mark those dates in your diary. I wonder if they could support The Damned? That would be a great night out.
Buy Here
Author: Martin Chamarette
Tour dates start this week –