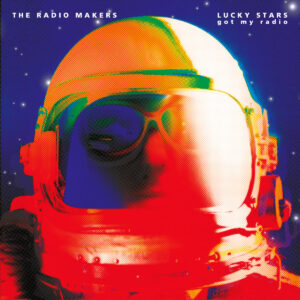 Hailing from the eclectic city of Bristol The Radio Makers deliver their debut album 'Lucky Stars' with its alluring mix of Glam Rock and guitar pop it opens with the retro stomp of 'Edible Hearts' that storms in like they've been on a steady diet of Early Japan, Roxy Music and some post punk. Its got a great production courtesy of Steve Evansson who's work includes Siouxsie without her banshees, Goldfrapp and the Proclaimers none the less. As an introduction I like the bass wandering around the song whilst the confident vocal sound like a youthful Brian Ferry, impressive.
'Echoes' has a warbling synth not a million miles from Blondie and other 80s new wave. It has a chart-bothering melody and hook that will catch you and reel you in. 'Jo Jo' sounds like it's born of a heavy diet of Steve Strange and post-Berlin Bowie which isn't a bad place to set yourself. However much they use synths and punchy basslines there is always the chiming distorted guitar to anchor these songs.
One of the standout tracks is 'Girl Who Looks Like You' with its menacing verse building to a punchier chorus whilst the guitars swirl around the vocal melody. The lead single is the glam stomping 'I'm A Poseur' (of course it is) with its heavy on-the-floor tom stomp and quirky synth its a decent ear worm no doubt about it.
The albums title track is also a very decent slice of guitar driven pop music where they leave enough light and shade and the song sound big enough to be a hit if we were in the heyday of singles otherwise known as the early 80s.
'I'm A Tribute (To Me)' rocks out towards the albums close and wipes some snot across its face along with the smudged guyliner with its glam stomp in full effect. To close the album they have an outragiously epic ballad in the shape of 'Talk About You' although totally unoriginal its an epic cliche to end such an album on a tear jerker which isn't a bad thing and the reason its such a cliche is because it works if the band deliver the goods and to be fair The Radio Makers have just about pulled it off.
In summery this is a very decent offering with some really good songs that grab your attention and are really well arranged. Mixing up several genres that have clearly influenced the writers with a bold vision of guitar driven indie pop.
Buy Here
Author: Dom Daley