It's the opening night of Gary Numan's long awaited Intruder UK Tour, and this time around its one of his largest in decades, not just in the number of dates (19 in all), but also the venue capacities (the tour sees Gary making a long overdue return to Wembley Arena).
It certainly doesn't take a genius to see why Numan's stock is on the up right now, he's released two of the best albums of his 40 plus year career in the past five years, and in 'Intruder' the latter of those two albums, perhaps the best album he's done since his initial late 70s/early 80s heyday, and it's one that easily breezed into my RPM albums of the year list for 2021. I guess that's also why Sky Arts are in the house tonight filming for an upcoming documentary about the enigmatic singer/songwriter, someone who helped influence a whole generation of bands worldwide during his 20 plus studio album career (including collaborations and Tubeway Army that is).
Not least tonight's openers Divine Shade, a French trio who Gary himself seemingly picked for the tour just so he could see them live. They play darkwave, mixing the traditional industrial/electro sound of the likes of The Young Gods and KMFDM with a hint of early 90s dance along with the occasional blast of Killing Joke vocal intensity. They go down very well indeed with those in early doors, and whilst I'd only caught a few snippets on YouTube before tonight I have to admit I'd be interested to hear what the songs played tonight would sound like in the context of an album.
They may have actually been selling one at the merch stall, but with ongoing concerns over Covid and a strict queueing system in place that extended half way up the side of the (newish) swanky bars that the University have within its concourse, I instead decided to wait until I got home and let the internet once again take me on another musical adventure.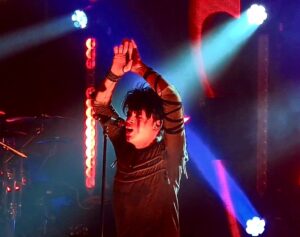 Which is something tonight's headliner has most certainly been on since the first seeds of a Numan renaissance were sown back around 1994 with the release of his 'Sacrifice'/'Dawn' album and whilst it was a good six years later that I first reengaged with the artist via his 'Pure' album (the title track of which making a mid-set appearance tonight) and live a year later during a rip-roaring Reading festival appearance in (of all places) the Dance Tent, tonight really is all about the triumph that is Gary's nineteenth solo record, the aforementioned 'Intruder'.
With Gary promising a breath-taking light show to complement the tour, it is the title track of 'Intruder' that brings everything to life amidst a fireball of energy. The video banks and lighting playing out the visual aspect of the music – whilst the audio is (as one has come to expect from Numan) technically brilliant from the get go.
There's a real bite to the layers of sound and whilst the band numbers just five members (including Gary) they make the sound of a dozen thanks to swathes of synths and samples that swirl around in the Great Hall. Special mention must go out to the guitarist and bassist who duck and weave like champion prize fighters, and indeed Gary himself who at 64 years of age pirouettes, preens and sings like a person a third of his age. He was certainly never this stage confident first time around, albeit he still doesn't say a single word to the audience tonight other than the odd off-mic thank you.
Set list wise I don't really want to spoil it for those of you yet to still catch this tour as it winds its way through the UK for much of May. Me, I'd have been quite happy for Gary to play all of the 'Intruder' album, but for those of you who have also been on the musical adventure with the man himself then along with a handful of cuts from said album there's also a smattering of deeper cuts, interspersed with the usual "must play" tracks, the highlights of which for me tonight are a cocksure run through of 'We Are Glass' and a mid-set pace resetting 'Down In Park' that directly followed a brief musical interlude where the band left the stage and let the samples set the tone.
Thankfully with Numan it's not just about playing the hits though, and its tracks like 'The Chosen', 'The Gift' and the jawdropping 'My Name Is Ruin' that easily stand shoulder to shoulder with the ones people like to sing the riffs to.
This tour is indeed a triumph for Gary Numan both musically and visually, it's something you really should dig deep to get a ticket for (and like many fans I see on social media commenting) maybe even for multiple dates, because remember as Numan himself has said they've learned 35 songs for this tour and only 19 of those were played on this the opening night.
Oh, what musical treats await you all. Enjoy!   
Author: Johnny Hayward