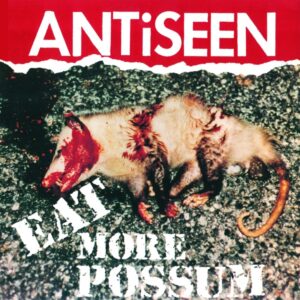 This band has a catalogue of over 100 LPs, EPs, CDs, and DVDs recorded with various line-ups and have performed all over the world.  Eat More Possum is Antiseen's most acclaimed album, originally released in 1993 and now remastered (honestly) for this vinyl reissue. 
Antiseen was formed in Charlotte, North Carolina by Jeff Clayton and Joe Young in 1983. These punks wanted to be outsiders from the start and I guess they managed to become so underground it was difficult to know what the hell they were up to even when the internet became a real thing we all had access to.
It's fair to say Antiseen are influenced by the Ramones and Stooges, employing short, heavily distorted power chord-driven songs largely free of guitar solos or advanced musicianship, punk as fuck I guess.  
From a time when it was still possible to offend people and shock with your music and image Antiseen managed that alright even without the pull of GG Allin. 'Eat More Possum' (From the artwork) to the musical content was always going to offend people. described as "gun totin', meat eatin', society rejectin' punk rock" isn't far of the mark. 
Young's guitar tone is nasty and primitive. Perfectly played on the Ramones cover of 'Today Your Love' Antiseen are relentless. On the verge of chaos somewhere between Motorhead and the Ramones ', 'I Am Stormtrooper' is a buzzsaw flying through your speakers with no pause for breath or any concept of compromise. It fighting music – drunk, nasty and dangerous.
Flip that with the cowpunk of 'I've aged twenty years In Five' then revert to the ultra-metallic punk of 'Cactus Jack'
The extreme edges of punk rock have always been prolific, just ask Blag and the Dwarves but there's something altogether uneasy like a dueling banjo about 'Warning' but the gargling razorblades vocals of the big Rock of 'Animals Eat Em' isn't going to be used in any veganism campaign any day soon.
eighteen tracks not all musical but value for money that's for sure. If some shock punk is your bag then you might already have a battered copy of this from your youth – Well, here's your chance to get a clean-mint copy from those purveyors of garage punk rock n roll at Bang! Records. Christ, they even get funky and slap some bass on 'Shittin In High Cotton' but what they do best is the buzzsaw punk of 'Star Whore' and the super fuzz Garage Stooges style of 'Break It Off' or the chaos of 'Trapped In Dixie' and the albums final real offering of 'Fuck all Y All' that is the perfect sound of a Southern Motorhead fan channelling ole Lemmy, Yeah Haw! Motherfuckers! go get some antisocial Antiseen right now!
Buy Here
Author: Dom Daley