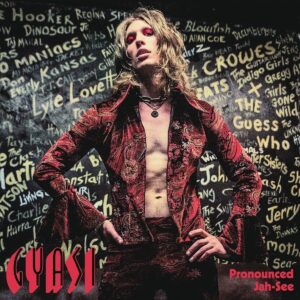 Look at that cover art, now there's a dude who understands the fine art of being a rock star! Raised in the woods of West Virginia on a diet of 60's & 70's rock and a whole host of world music, you could say Gyasi (pronounced Jah-See) had an isolated upbringing. But his time with just his parents record collection and Charlie Chaplin/Buster Keaton movies was all the inspiration he would need to create a theatrical, rock n' roll persona.
After joining his first band at 15, Gyasi eventually relocated to Nashville to search for the rock n' roll dream. Now it seems, the newest dandy from the underground is vying to claim the crown of the long-gone rock stars and the bands that are well past their prime.
'Pronounced Jah-See' is the first long player on vinyl for this artist. This album collects a bunch of previous singles and new material together on glorious purple wax (other inferior formats are available) and it just begs to be placed on a turntable, the needle to be dropped and the volume to be cranked!
From the opening falsetto vocals and fuzzy guitars of 'Burn It Down' to the epic closer 'Godhead', Gyasi takes the listener on a pre-digital age tour-de-force of retro rock n' roll. While the aforementioned opener comes on like Foxy Shazam meets The Darkness, and surely gets my attention, the sublime power pop makes way for the swampy, blues stomp of 'Tongue Tied'. With a killer guitar harmonizer and some harmonica, it walks the same muddy, southern blues paths that the likes of The Back Keys and The White Stripes have frequented.
You can't review this album without mentioning the Bowie/Bolan influences, and it doesn't stop at Gyasi's fashion sense either. (Yes, Gyasi could be the only man to pull off leopard skin flares and red stack-heeled boots in 2022). 'Androgyne' is Ziggy Stardust with countrified slide guitar and well-placed handclaps. 'Fast Love' channels T-Rextasy to the max, and 'Kiss Kiss' adds some New York Dolls swagger to the mix with honkytonk keys, sexy sax and Johnny Thunders guitar licks. Every song is a banger, hands down, and there's enough diversity to keep the interest, even for the modern playlist generation.
The thing is that Gyasi is wearing his influences just as well as he wears his threads, man! But he also throws in modern day twists and turns to keep it contemporary. There are hints of Brit Pop going on and he always manages to create killer hooks and choruses that will stick like glue. Take 'Feed Your Face', it's everything glam rock wannabees for the last 40 years have failed to master. Take a pilfered Bowie riff, add a killer chorus and a bunch of handclaps and bobs your uncle, you've got a potential hit single!
Then, just when the naysayers will have him nailed as a Bowie rip off artist, he goes and takes the listener on a sentimental trip to Haight-Ashbury. 'Walk On' is as Summer Of Love as you can get without putting on a Mamas and The Papas record. A live feel is created with its acoustic intro, it reeks of the San Francisco sun, reefer and doe-eyed hippy chicks with flowers in their hair. Or is it just a Kula Shaker song? I don't care, all I know is, that it's the coolest trip my ears have heard in ages and I love it!
Elsewhere, the acoustic 'Little Tramp' delivers Led Zep 3 vibes and was probably written around a campfire in the company of faeries, wolves and other such mystical beings. I think I even heard a flute on it! And then to round things off he somehow manages to channel the influences of both Pink Floyd and The Beatles in the epic 'Godhead'.
Gyasi takes the rock n' roll swagger of Zeppelin, the bad boy boogie of T Rex and combines the theatre of Queen & David Bowie with the campness of The Rocky Horror Picture Show, all rounded off with catchy hooks and killer choruses that are all of his own making.
While you may argue there is nothing original in rock n' roll these days, I feel that this album is the most exciting and complete record I have heard this year, hands down. But 'Pronounced Jah-See' is more than just a throwback to rock n' roll's golden years, it's a statement of intent that Gyasi is here to take on the world and be the poster boy for the next generation, and that's just the attitude we want from our rock stars, isn't it? Music lovers, you ask where the future festival headliners are…I present you Gyasi, give him your stages!
Buy Here
Author: Ben Hughes