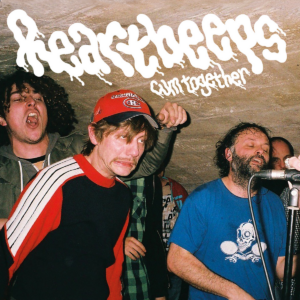 Sacre farkin' bleu, Brother and sisters, What a glorious album cover this is. Certainly grabbed my attention and made me want to investigate further. Cum Together? tell me more… RIGHT NOW! Bordeaux, France's HEARTBEEPS have emerged from the ashes of TV KILLERS (Estrus Records / Dead Beat Records), for a punked-up orgy of noise with current and ex-members of Swindlers, Wild Zeros and Holeshots, and this their debut "Cum Together" LP is a fuckin' hoot, 100 mph of joyful, reckless punk rock. Like a whirlwind of clashing guitars, and drums. It's frantic garage-based punk rock n roll. Straight out of the bag marked The Saints, Pagans, DMZ, MC5, Radio Birdman, Dead Moon and more than a dash of Cavemen and of course those early Damned records.
From the opening few bars, you get the impression that Heartbeeps are here for a good time not a long time and with their amps dialled in to 11 there isn't time to fuck about its crash bang wallop and hey ho let's go!
It's the kind of music that got Elvis and Jerry Lee into trouble back in the day. Hip-shaking sweaty rock n roll and from the lead track 'Criminals' you know just what's going down. 'Sick In Your Head' is a runaway train heading for the buffers but who ever cared about that? Guitars being rinsed for all they're worth and you can feel the exhaustion from the drummer's snare as it rings out. Great opener and a signal of intent.
That's pretty much the MO of 'Cum Together' it's a rush of blood to the head crash, Bang Wallop! To be fair the minute I saw that artwork I knew I had to hear what was committed to wax because those faces tell a thousand stories and all of them great. 'Aint No Crime' is a more measured, slower beast but with a cool riff and a solo that could cut through steel. Hold still kids because you should buckle up for we're off again running red lights with 'Nightmare' and thats wiped out with the grooving 'Never Stop' that had me thinking of Garage Rock royalty – Gunfire Dance, from the hip-shaking tambourine through the howling good time vocals this is top notch.
There is the belligerent and snotty 'I Don't Care' but you could pick out any of the songs for praise because this is an absolute Banger of a record from start to finish. 'Sake Blast' rings out the chords in true Brian James style before signing the record off with the wonderfully titled 'Trust No One And Fuck Everybody', drop the mic and burn the studio to the ground it's only fair right?
Heartbeeps have smashed out a rip-snorting Garage Punk and Roll Banger and shame on you if you don't let this light up your life. Ok, Turn it up and let's take it from the top one more time 1-2-3-4 Go!
Buy Here
Author: Dom Daley