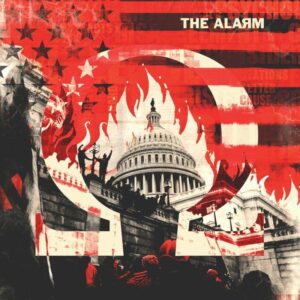 When is a new album not really a new album? Um, well this one to be fair. During lockdown, Mike Peters recorded a plethora of new tunes in the wake of insurrection day in Washington DC. The album came out under the title 'WAR' and was pressed individually on a lathe press. Each copy came with a hand-drawn cover from Peters' fair hand nonetheless and was the singularly most expensive record I've ever bought.
Since Lockdown and Insurrection Day things have improved in as much as we have the ability to attend live shows, gather and travel and back to some sort of normal (if where we are now is normal then yup normal) After witnessing an impressive show on The Alarms recent jaunt around the UK, news of the impending Alarm record was exciting and something I was looking forward to.
Maybe I didn't read the memo or wasn't paying attention (nothing new there then) this new album (on a rather nice splatter variant might I add)is that rather expensive 'War' album at a much more affordable price and an added new track. Anyway, I was impressed with that album and the story surrounding its birth into the world so when I go this new variant home (Housed in a collage of insurrection debris) the packaging is nice compared to the 'War' lathe cut one so that's a bonus. Anyway onto the music.
On first spin, I can't notice any immediate mastering wizardry from the previous recordings (although I am now aware there are special bundled versions available from the Alarm central but having just splashed out on a bunch of reissued records and the recent coloursound album I couldn't stretch my funds just far enough to get the alternative mixes). I stand by my review for the 'War' record and whilst I've not played it for a while the songs sounded great live.
Sure it's not groundbreaking sound-wise but the concept and way the record was grown are excellent and a sense of urgency is captured in the songs from the opening energetic rush of 'Protect And Survive' it's a style Peters does very well and one I love hearing. The Alarm are a very different beast to the 68 Guns line up and have never let the grass grow around their collective feet and whilst I love hearing the classics I also love hearing new music and like it or loath it challenging himself to write new music is whats kept Peters moving forwards. It seems weird saying these songs have stood the test of time as they're on a new album albeit 18 months old. some of the songs have certainly stood that test – still sounding fresh and energetic. The cover featuring Benji Webbe of Dub War is one of the stand-out tracks doing a sterling job covering someone else's tune but by no means the best on offer here.
Some of the songs have jumped the queue like 'Crush' which are vibrant slabs of rock even with their gregorian style backing vocals. It also reminds me of the first few early poet's singles with the use of the harmonica and aggressive rhythm. the musicianship is again of exceptional quality and Smiley does his best Moon on 'Crush'. You can hear the energy Peters has managed to capture throughout the songs as to the mood it draws from when the attack on the Hill was taking place in real-time. 'War (It's Not Over Yet)' is a fine example of what was unfolding and Peters vocals are excellent in capturing the chaos and craziness of what went on.
Side two opens with the excellent 'Warriors' with its skanking rhythm on the verses and great use of the one-finger piano line that flows well into the anthemic chorus. A lot of bands used to front-load their albums and put the most impactful and instantly impressive tunes early doors and keep the "album tracks" for filling out an album but not here folks this album gets stronger and stronger as it unfolds. 'Gods And Demons' is a bruising affair with heavy guitars hacking and slashing as Peters howls at the moon with the punchy lyrics, another excellent song, especially as it's in deep cut territory.
Covers, love them, or loath them most bands do them, and 'Safe From Harm' is a good shout in the concept of this record, and getting Benji Webbe on board works perfectly on this rocked-up version of the Massive Attack song. Leaving just the one song, the new song that wasn't on the War album – 'Time To Start Over' closes the album with its modern rock feel, Peters delivers a strong vocal before signing off.
I will make the exception of owning two copies of the same album but with a different title here because I love The Alarm and to be fair this is a bloody good album be it 'WAR' or 'Omega' it's one you should really check out. not because I say so but because it's a damn good record and has some of Mike Peters best songs for a while on it and that's always a good thing. Hopefully, Mike Peters can get back to full health and keep on marching on and pushing himself to make new music.
Buy Here
Facebook / Love Hope And Strength / The Alarm
Author: Dom Daley