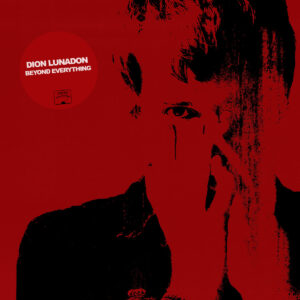 With a CV that name-checks both the legendary Auckland garage rockers the D4 and professional noise hitmen A Place to Bury Strangers, it is no surprise that Dion Lunadon's solo offerings are so impressive and sonically abrasive.

Much like the debut, Dion's follow-up Beyond Everything contains a vast genre appraisal of his career to date. Treating the listener to reams of heavy psych, post-punk, the dirtiest garage guitars, and even some Hammond organ, all delivered in a fresh captivating production that is a frenzy for the senses.

The record, although high quality and engaging are very sporadic in its delivery. In recent interviews, Dion has stated that the record has been written on and off since 2017. The overall package is a formidable one. Going from 'one punch punk killers' like By My Side and It's The Truth to 'Suicide style' synth and distorted fury such as Elastic Diagnostic and Glass Doll, this album feels more like a series of EPs and 45s. Not to diminish any of the actual content. As with the first record, the compositions are provoking and make the hair stand on the back of your neck, it's just not as uniform as album one. But in my book, this is a good thing, the experiments being thrown on the wall are rewarding for the listener, always exciting and balls to the wall, it's also giving Dion a great reputation as a solo artist that can throw his hand at anything.

With too many to mention, stand-out tracks would have to be garage standard Living and Dying With You, smooth Stooges Esque mover and groover Screw Driver. But if you want something a bit special that will energise you and weird you out all at the same time, Nothing But My Skull is one to have on repeat this summer. With the tempo of Flipper and dirgey guitar and howls of Thurston Moore all wrapped up sounding like some bastardised alternative rock Wings number.

The album is certainly a journey, but one of tremendous highs and pleasing curveballs. Currently, on tour in the US, Mr. Lunadon is hitting the UK in November. Sadly only doing the all too familiar London-only gig. In the meantime let's make some noise with this record and give him a reason to expand that date and turn it into a tour.
Buy Here
Author: Dan Kasm