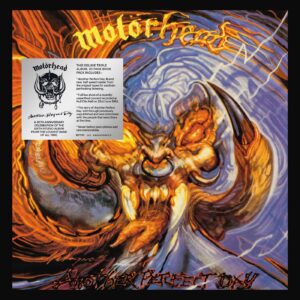 The latest Motorhead album to get the deluxe 12″ book treatment along side 'Iron Fist' and 'No Sleep' albums as opposed to the superb box sets of '1977' and 'Ace Of Spades' is 1983s 'Another Perfect Day' This brand new half speed master from the original tapes also includes a full live show of a recently unearthed concert recorded at Hull City Hall on June 22nd 1983. As well as the story of 'Another Perfect Day' told through previously unpublished and new interviews and never before seen photos and rare memorabilia. I'll let Kenny explain the diamond in this most impressive set.
Motorhead – Live at Hull City Hall, 22nd June 1983
1983 was a strange year in the Motorhead camp. 'Fast' Eddie Clark had left the band after Lemmy's dabbling's with Wendy O Williams, (apparently, Eddie was less than pleased with their ill-fated cover of Tammy Wynette's Stand By Your Man.) The man who replaced Eddie was ex Thin Lizzy axeman Brian 'Robbo' Robertson. On paper, a good choice you would think. In hindsight, this era was the most divisive in Motorhead's long history. Robbo was reported to be a bit 'difficult' while being in the band, refusing to play standards such as Ace of Spades live and wearing questionable clothing on stage, shorts and ballet shoes?? (much to Lemmy's annoyance.)
Drummer Phil 'Philthy Animal' Taylor was said to be a bit of a fanboy of Robbo and he couldn't do any wrong in his eyes. Robbo's tenure in the band was short lived but he left us a fine album with Another Perfect Day. The Motorheadbangers were unsure at the time, sales of the album reflected this, it only reached number 20 in the UK charts for example. Over time though, the album has gained critical acclaim, I think it's a great album myself, Robbo brought some much-needed melody to the songs while it was still unquestionably Motorhead.
As part of the 40th anniversary release of the album we get a cracking snapshot of the Robbo era in a live setting with a full set recorded at Hull City Hall in June '83. The band really are on fire here, tracks like Heart of Stone, Rock It, Dancing On Your Grave, and standardslike Shoot You In The Back & The Chase Is Better Than The Catch sound great. If there was any animosity between the band members at the time you certainly can't pick that up here.
This is a wonderful addition to the original album that's been remastered and repackaged beautifully on vinyl and CD formats. Go and give 'Another Perfect Day' a listen if you haven't for a while. You'll be pleasantly surprised….
Buy Here
Author: Kenny Kendrick