The much-anticipated trip over the bridge to watch The Chats at the Bristol O2 had finally come, after being postponed a number of times due to COVID the place was finally packed full of mullets and Aussie brilliance.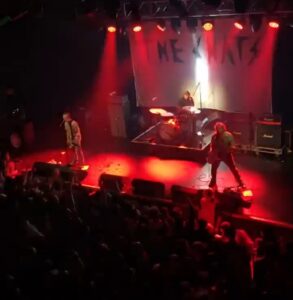 The First support band Dennis Cometti (named after a retired sports commentator) started the carnage as a people crowd surfed their way to the front to 'on the sauce' (which is still on repeat in my head) A perfect setup for the evening to come.
After a stop at the bar, Londoners 'Chubby & The Gang' send the O2 mental with their souped-up UK HC. It seemed to go by in a flash of strobe lighting, dry ice and dimly lit red lights. With a mix of songs from both albums, Chubby led his band through a pulverising set that fitted in rather well with tonights up for it crowd. Chubby seemed really pumped and up for it feeding off the pit and onto the O2's large stage, rather than some grubby little club where this style usually lives and thrives. Tonight Chubby & The Gang brought it on to Bristol and went down a treat.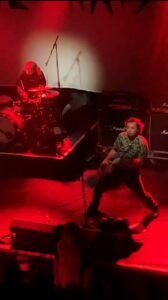 Before placing ourselves out of the bear pit that is the front stalls and go for the safer option and prime spot on the balcony the lights dimmed and out they flew. In an absolute blur of limbs, The Chats hit the stage hard and the only thing moving faster than the songs was the lighting – strobing like crazy sending the pit wilder than a dozen boxing kangaroos. Everything was played at double, nah triple, nah quadruple speed, It seemed like a Chats classics masterclass. Favourites 'nambored', 'temperature' and 'mum stole my darts' sent the Kungfu kicking kids at the front absolutely mental.
With barely time to take a breathe Mr. Sandwith took a trip on some of the multiple liquids flung towards the stage and lay in the pool of beer that had gathered, in excitement he returned to his feet and smashed out a breakneck 'smoko' and their newest song, 'struck by lightning' and then it seemed to come to a crashing halt. Equipment was broken and chaos was all around which seems like the best way for a Chats show to go.
What felt like a prime frat house punk rock party Australian style – the set length was perfect it was all over and leaving the salivating mob with 'Pub feed' was about right. The crowd was duly told to fuck off and the band legged it. Soaked in beers and a cheerio-o their work tonight was done, Bristol was left to come down from The Chats tornado that just tore the O2 a new one. Until next time from a very, very sweaty O2 g'day and goodnight you bonza bunch of noisy swines.