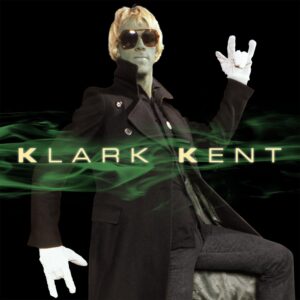 The complete Klark Kent – eighteen tracks spread out over four sides of vinyl. Stewart Copeland taking over vocal duties on what is effectively a new wave, energetic romp through a whole bunch of tunes dating back to 1980 when these songs were first recorded. It was the first solo album (of sorts) for any of the Police. There is the bonus of some unearthed gems to fill out this collection that was pressed on Wax for RSD a while back but this is bigger and better.
Obviously, there is the punky side to Copeland's work on a fairly hefty dose of his rhythmic new wave that his then-day job in the Police did to enormous levels. There is an exceptional level of musicianship and often a lot is going on throughout the records. But you do get a sense that Copeland had a lot of input into those Police records and his sense of melody is spot on quite often.
I quite like Copelands vocals and I know they can be a little thin at times but they work for the new wave style and songs like 'Office Girls' it suits as it does on the catchy 'Too Kool For Kalypso' whilst remembering this record, these songs are 40 years old.
Some of the record sounds dated, 'Away From Home' with its reggae roots shuffle but that also brings a particular charm with it that I found appealing. What They haven't done is tamper with the recordings and given them a modern sheen or recording which would have killed any energy stone dead.
The single 'Don't Care' has that time capsule vibe like classic Buzzcocks with the melodies and that's what works here. A good song is a good song no matter the time or method of recording and Copeland's rapid snare runs shine like a star. I also like his attitude that if you don't like it you can suck his socks, so edgy.
The 18-track expanded album will be complemented by a bonus CD of Copeland's Kent demos, released here for the very first time. But the one gripe I have with the vinyl isn't the mission demo but the lack of liner notes, I'd love to know the boring details of who plays what where, and why that would have been nice. Oh, and a side note I'm always happy to admit I'm never keen on instrumentals and shy away from them but here I quite enjoyed checking them out and wasn't tempted to skip not even once. Maybe I'm getting old or just growing up who knows? But one thing I do know is you should check out this record. Be it as a fan of the Police or a curious old new wave/pink rocker who always had a soft spot for the Police and those early records. This is an excellent accompaniment.
Buy Here
Author: Dom Daley