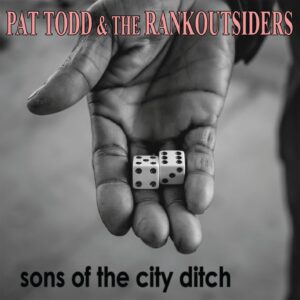 PAT TODD and his band THE RANKOUTSIDERS release album number seven and LA's finest rock'n'roll band comes some 36 years full circle after the label's first dalliances with Pat., back when he fronted the legendary Lazy Cowgirls of course. The new album shows that Pat has lost none of his spark, that his voice and songwriting have only gotten stronger, and that he's upgraded the Lazy Girls for Some Rankoutsiders – Yet another killer band to back him.
OK a show of hands please. Has anyone ever not throughly enjoyed a Pat Todd record? No? No, I didn't think so because whilst you might think it's a trick question because Pat Todd doesn't do bad record – Fact. 'Sons Of The City Ditch' is just a full force rockin and rollin record.
If this was a Georgia satellite record it would be causing a stir with the likes of 'Living In A World Of Hurt' that gets this rowdy do off to a thumping start. But hang on it's like if Springsteen grew up on a steady diet of the Dolls and the Ramones and had an attitude of swigging beer and barroom brawls he'd be able to sound as vibrant and rockin' as this.
'All We Have To Show' is carrying on the party after hours back at the shared house and the lounge is awash with beer-drinking boys and girls having the best of times and the music is just killer. Turn it up DJ we don't wanna stop yet.
Oh, yes please 'State Line' is like the getaway car theme tune after the perfect heist. Keep on driving and turn that stereo up. Pat Todd and his Rank Outsiders are killing it on this record just playing sweet sweet rock n roll loudly. Fast and Loose its not rocket science it a time honoured tradition and Todd and the gang just get it.
They do kick back and 'Donna' made them do it. It's a love song but soppy it ain't. 'Long In The Tooth (Before The Dolls)' lulls you into a false sense of security before taking off and delivering one of the record's real highs from the time-honoured riff to the backing vocals and into the dueling guitar solos. Sure it's unoriginal, and doesn't deviate from the well-trodden path but it's all about the songs and delivering just exceptional rock n roll. That's it, the MO is simple and some people just get it and are able to smash it pretty much every time, that's Pat Todd that is.
The production lets the music breathe and it works well on the countrified  'Back Down In The Basement' another thing Todd knows how to do as well as the likes of The Supersuckers. 'Hi, Ho Silver Lining' is something of a glam stomping interval for me. Sure it's a well delivered anthem but I'm not sure I'd have included it here but what do I know? 'Goodbye To The World' has some rasping harmonica added for good measure.
This album is right up there with that first Dan Baird solo LP for me and PAt todd is much the same but with a more punk rock handle on proceedings mixed with his Rock n Roll and his records are always Full of top tunes, great production, and knockout delivery.
Leaving just the title track to sign off in style and possibly leaving the best til last. The soloing and harmonic duel are killer but what else would you expect. Another day another excellent record added to the Pat Todd & The Rank Outsiders arsenal maybe their finest yet it's got all the vital ingredients to take that title. Buy it!
Buy Here
Author: Dom Daley